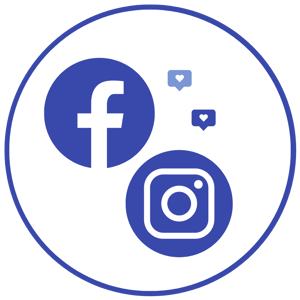 Retargeting lets you advertise to

students

who previously engaged with your institution online
How retargeting works
The retargeting journey:
Students visit one or more 460+ Keystone websites, where their information is captured




When they visit Facebook or Instagram, they can then be served your retargeting advert

We can use a Facebook lead generation form to capture leads at that point, or they can be directed to your institution's website

Additional students are also reached through look-alike targeting, using Facebook's look-alike audiences.
Benefits of Retargeting Campaigns
With Keystone's Facebook and Instagram retargeting services, you can:
Benefit from a global audience of 64+ million prospective student visitors who access Keystone websites each year

Recapture the attention of your ideal target students when they are on Facebook and Instagram

Maximize value and increase visibility with the right audiences for your programs

Choose to optimize your campaign for boosting traffic to your website or landing page, or focus on lead capture
Schedule a call to learn more about Social Media Retargeting
How to set up retargeting ads on Facebook and Instagram
With a dedicated Keystone Customer Success Manager, we will be able to guide you but essentially, we will implement and optimize the campaign for you.
All you need to do is select your campaign objectives and decide on your targeting options, which include:
Campaign Objectives: Traffic Boost or Lead Conversion?
Do you want to drive website traffic to your website or landing page where you can determine the lead capture process there?
Do you want to capture student leads using a lead gen form integrated as part of the campaign?
Campaign Targeting: Who and how do you want to target?
Benefit from custom-built audiences provided by Keystone, such as:
Retargeting Facebook:

those who have already visited your profile on Keystone's websites, for example, retargeting on Facebook to those who visited your profile in the last 6 months

Retargeting Instagram:

those who viewed your program listings on our platforms, for example, retargeting on Instagram to those who have viewed your MBA program listing

Look-alike Audiences:

target additional social media users to broaden your campaign reach by using look-a-like audiences, including people who have been searching for similar programs that are similar to your retargeting audience

Location Targeting:

Customize your campaign further based on your requirements, such as using geo-targeting on Facebook to only target students in specific regions and countries.
Learn about our strategies to improve your student outreach