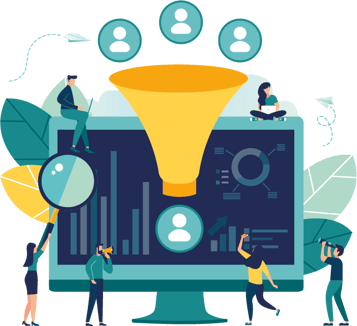 Your Student Leads In One Place

Keeping track of all your marketing activity can be difficult, especially if you are using multiple marketing applications and channels.
With Connect, we use marketing automation to collect all your student leads into SmartHub automatically from their original sources, consolidating and preparing them for the most important step – nurturing and engagement!
Powered by:

How Connect Works
Consolidate your student marketing
Whether you want to collect your leads from your own website, social media or even Excel records, there is a solution for you. Connect is designed to make it easy for you and your team to bring all your student marketing into one place.
Never lose track of an enquiry again – with Connect, you're in control.
Hosted lead forms
Our marketing lead forms have been carefully created and optimized for conversion across our 460 global domains. As part of the Connect product, you will also benefit from the ability to also implement these forms into your own website and channels. Take advantage of our years of experience in global student lead generation.
No fuss setup and installation
We understand that integration is often time-consuming and costly for many teams. When you purchase Connect, our Support team will be on hand to fully guide you through the setup process, taking away all the headaches associated with integration!
Seamless integration
With Connect, our Customer Support team will handle all setup and potential integration between your CRM and whatever source you have. Just let us know what system or application you need connected, and we will handle the rest.
Reduce your workload overnight
Connect is designed to centralize your marketing, giving you a global view of your leads and reducing your workload by up to 80%. Never lose track of your leads again, juggling multiple accounts and systems!
Create your own custom lead forms
Our Lead form generator gives you the ability to create and embed lead forms in seconds! Design your lead forms exactly how you want them with Connect.
Your Benefits
Unified student information across all channels
Reduce your workload by up to 80%
Fewer emails in your inbox
Increase your number of highly qualified students
Get Connected Today
Please leave your details, and our friendly team will be in touch shortly!