Keystone expands its student reach in Europe with acquisition of German platform, studddy
Oslo, Norway & Cologne, Germany
Published April 13, 2023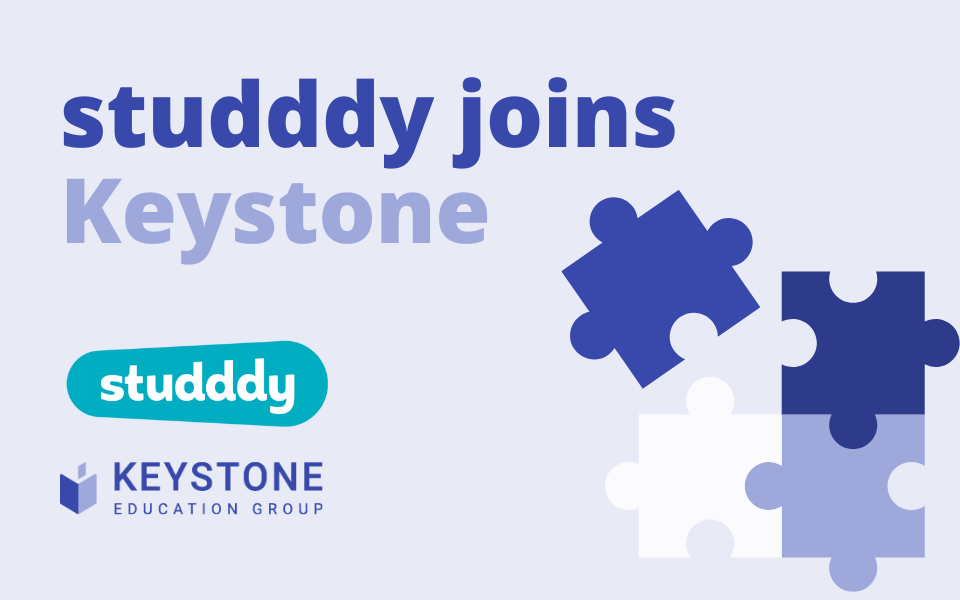 Keystone Education Group (Keystone) has expanded its European reach with the acquisition of German online student search and discovery experts studddy.

Studddy, formerly known as TarGroup Media, was launched in 2010 as an online study guide for prospective students in Germany and Austria. Following expansion over the past 13 years, studddy has grown to become the market leader for domestic student recruitment within the region, attracting over 12 million visitors each year to its websites.

"We are excited to boost our offering to German students and strengthen our footprint in the European market with studddy joining the Keystone family," said Fredrik Högemark, CEO of Keystone Education Group.

"Studddy shares a lot of the same values as we do – most notably, the goal of finding young people their first-choice education. Their drive for supporting students through the recruitment process and for ensuring university classrooms are filled with the best-fit students, aligns perfectly with our vision at Keystone, making this the perfect match."

"Coupled with Keystone's powerful global reach across student search, and through our European student recruitment agencies, this new partnership will not only strengthen our position in Europe but also improve our service as a provider of end-to-end enrollment generation solutions for the global market. Ultimately, a highly valuable offering for institutions wanting to recruit students from within the region, both domestically and internationally," Högemark said.

Founder of studddy, Milan Klesper, said: "We are very pleased to have found a partner in Keystone whose founding story is almost identical to ours. We have both grown from a single study portal to a multinational company focused on helping millions of young people make the right study choice every year."
Co-founder Joachim Feger added: "Thanks to Keystone's worldwide network, we can now introduce prospective students to even more study options – whether it is studying in Germany and Austria, studying abroad, or even potentially studying with a sports scholarship at an American university.
"For our customers – our partner universities and education providers - it means we can offer even more support so that they can reach potential students across all channels and geographies."

The German higher education market comprises over 3 million students, including 350,000 international students.

With this acquisition, Keystone also furthers its position as the market leader for international and domestic student recruitment in Germany, the Nordics and the UK, following the acquisition of UK-based UniQuest and FindAUniversity in 2021, as well as SONOR and Blueberry agencies in the Nordics.

Media Inquiries to:
Ashlee-Maree Courtney-Eman
ashlee@keg.com
+47 475 13 692

Investor Relations (IR) Inquiries to:
Mark Ivin, CFO
mark.ivin@keg.com
+47 94 888 606

About Keystone Education Group
Keystone is trusted by more than 110 million students each year, helping them in their pursuit of higher education. In turn, Keystone helps over 5500 education institutions reach, recruit, and enroll prospective students in more than 190 countries across 460 student websites, including Masterstudies.com, Bachelorstudies.com, Educations.com, Studentum.se, and FindAMasters.

Keystone also operates a range of global student recruitment services across UniQuest, Blueberry.nu, SONOR, and Keystone Sports. Headquartered in Oslo, Norway, Keystone is backed by Viking Venture and Verdane, two leading Nordic venture firms. With offices across the Nordics, Germany and the UK, Keystone has an international staff of more than 650 employees.

About studddy
studddy (formerly known as TarGroup Media) was founded in 2010 and operates more than 30 portals in Germany and Austria that enable those interested in education to choose the right degree program or training or further education. Around 12 million visitors per year inform themselves about full-time, part-time, and dual study programs. For universities, continuing education providers and companies, studddy is the first port of call for reaching and convincing their target group online. In Germany, for example, studddy work closely with over 95% of all private universities.