International Student Recruitment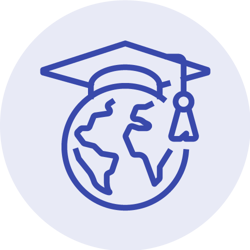 International education is one of the largest and fastest growing economic sectors in the world. Increased access to primary and secondary education, as well as growing wealth and employment opportunities means that the world's student population is more mobile that it has ever been before, and overseas study now ranks among the most important markers for graduate success.
The number of outward-bound students from China has risen to over 700,000 per year, and India is now sending nearly 200,000 students abroad on an annual basis. With numbers like these it's no wonder that international student recruitment has become a focal point for university admissions offices. International students represent a valuable and dynamic potential for universities, but recruiting students from abroad comes with its own unique challenges. As the demand for international education grows, so do the needs of university admissions offices, and Keystone Education Group has the tools to launch your international student recruitment plan.
At Keystone we understand the complexities of international student recruitment, and with more than a decade of experience our team comes prepared to handle all of your recruitment needs. We provide a recruitment plan custom-made for your individual institution and our system produces the highest conversion rates for qualified enquires at an exceptional value. We tackle the challenges of international student recruitment and address common admissions issues with a multifaceted approach to your marketing and communications. Our tailor-made recruitment system is easy to use and optimized to your enrollment goals.
Since 2007, Keystone has offered a comprehensive approach for international recruitment and admissions that eliminates the hassles associated with international student communication. Keystone's multilingual strategy means that your school will have maximum exposure in relevant student markets. You can save time and money with our integrated systems that help you target and engage with only the most qualified students, making the admissions workday easier and more efficient.
Stop wasting time with unqualified enquiries and let Keystone do the work for you. We custom-design your recruitment tools so that your admissions personnel will be able to identify potential student markets instantly, streamline the enquiry process and reduce the manual workload. And, most importantly, Keystone's focus on individualized recruitment plans means that you will be able to concentrate on what really matters: making students' college dreams become a reality.
Book a demo
Please leave your details, and our friendly team will get in touch.