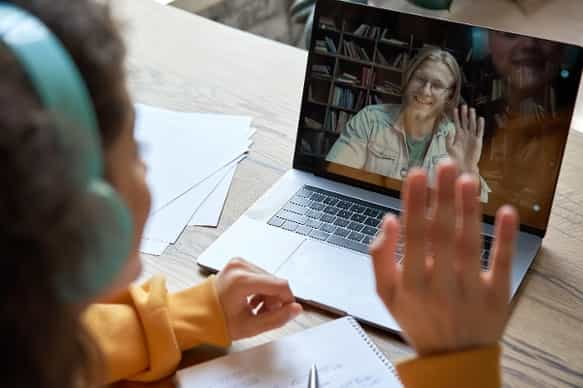 Virtual student fairs have been around for many years, yet they have only recently emerged in the spotlight due to their role as a useful alternative to physical fairs during the COVID-19 pandemic.
Since physical restrictions went into place earlier this year, institutions across the world have had to transform their student recruitment methods overnight, and student fairs were one of the first events to be cancelled. Bridging the gap between the physical and online, virtual student fairs have been an essential tool in helping universities maintain their student outreach during the global lockdown.
After many months of virtual student recruitment, these events have proven so popular (and cost-effective) that many institutions are now considering incorporating them into their overall recruitment strategy. We examine why this form of online event is so popular for universities, and how you can potentially join or host a virtual student fair.
What is a virtual student fair?
A virtual student fair is just like any other student fair, except it is hosted 100% online. Faculty and university administrators can meet prospective students and discuss their study options in an online format. The best part about these type of events for those restricted by the pandemic is that university representatives and students do not have to leave the comfort of their own home. Every attendee and exhibitor can join the event via the click of a button from their desktop computer, tablet or smartphone. No need to travel or set up specialized equipment, while also reducing your carbon footpring!
The benefits of exhibiting at a virtual student fair
The current situation caused by COVID-19 has created many challenges for university administrators trying to recruit students. It is also a difficult time for prospective students who are trying to figure out which university to attend without being able to physically visit, and are considering whether they may need to defer entry to future semesters. A virtual fair provides recruiters with the opportunity to answer student questions, be in direct contact with students, as well as help ease their worries during this time.
During a virtual student fair, prospective students can attend webinars on important current topics such as:
the effect of coronavirus for those studying in 2020/2021 and how this will impact students at the fair (easing those fears!)

the scholarship process (application and eligibility)

administrative information such as start dates, why study particular courses, how to choose subjects and what options are available

Communicating general information regarding accommodation and campus life.
Additionally, webinars can be tailored to help extend reach to international students during the pandemic. Webinar topics can include information about what it is like to study in your country or city, and how to secure a visa.
Virtual fair providers
When choosing your virtual fair provider, we recommend evaluating which service provides the best fit for your own unique needs as a university, faculty or department.
Here are a few virtual fair providers worth checking out:
Author's Note: FindAUniversity and Educations.com are part of the Keystone Education Group virtual fairs offerings.
Using a virtual student fair provider
The benefits of attending a virtual fair hosted by an external organization is that a lot of the hard work is done for you. Many of these third-party organizations offer built-in promotion for the event. In this case, you may not have to worry about getting registrations for the event and will likely be able to reach a broader target audience than you would be able to on your own. However, the best results will always come from combining promotional services provided with advertising and promotion across your own channels.
On the day of the event, you will simply need to show up and engage with the attendees via the organizer's pre-existing platform, which can include text, audio and even video chat. Many universities typically prefer using virtual student fair providers as they are adept at removing all the logistical and administrative headaches from the event process! These services are also a highly cost-effective solution for budget-conscious institutions wanting to benefit from the expertise and infrastructure provided by a dedicated virtual fair provider.
Make sure you stand out
If you choose to exhibit at an organized event, make the most of the customizable features so that you can differentiate your university from your competitors. Most virtual fairs will allow you to create a bespoke exhibitor booth where you can include downloadable content, galleries, and on-demand videos. Put time and effort into creating and highlighting the very best content to wow prospective students.
Hosting your own virtual fair or event
Alternatively, you can go the route of setting up your own webinar or virtual information session. Many universities have done this over the last few months and have found great success running events like virtual campus tours and Q&A sessions. There are a number of services you can use to do this:
If you choose to host your own online event, you will need to focus a lot of effort into promotion and ensuring registrations. Some ways to easily promote your virtual student fair can include social media campaigns, using direct email marketing to reach your database of student enquiries, promotional videos as well as using paid advertising boosts. Those who experience the best attendance rates usually incorporate a mix of promotional tools.
Lastly, make sure you have a way to follow up with students who have engaged with you at the virtual fair. This could be via a phone call, email or even targeted social media marketing. By personally following up with students, you will leave a lasting impression that will help to bolster your recruitment as you head into the second half of 2020.
Overall, virtual student fairs are an excellent way for universities to reach their student audiences, and it appears like their popularity will continue long after the pandemic.
Contributors: Kristine Meek Stokke and Ashlee-Maree Courtney-Eman.