Generation Z represents the newest wave of university applicants. They are tech-savvy, hyper-connected, and considered the first generation of digital natives.
Recent studies have shed light on Gen Z's shorter attention span, revealing significant implications for every industry.
Research conducted by Microsoft in 2015 found that the average attention span of Gen Z individuals was only about eight seconds, four seconds less than that of millennials. The study attributes this decrease to the generation's constant exposure to digital content and multiple screens.
As educational institutions vie for their attention, universities must adapt their marketing strategies to reach and engage this digitally native generation effectively. In this article, we explore some approaches to marketing your university for Gen Z and what to focus on to ensure your online content will grab their attention immediately.
Make it easy (and very easy, at that)
Gen Z is used to immediate answers. By doing a quick search or simply asking their AI assistant, they can have their questions answered on the spot - often followed up with options for further information.
Looking for a college or university is no different. If a student reaches out to your university via email or social media, the time it takes for them to receive an answer can be the deciding factor between continuing further down the funnel or switching their attention to another institution that will provide quicker responses.
Of course, maintaining a staff big enough to reply to every prospective student immediately is unlikely. However, with the help of automation, such as an AI chat assistant, students' queries can be filtered and redirected to the appropriate department.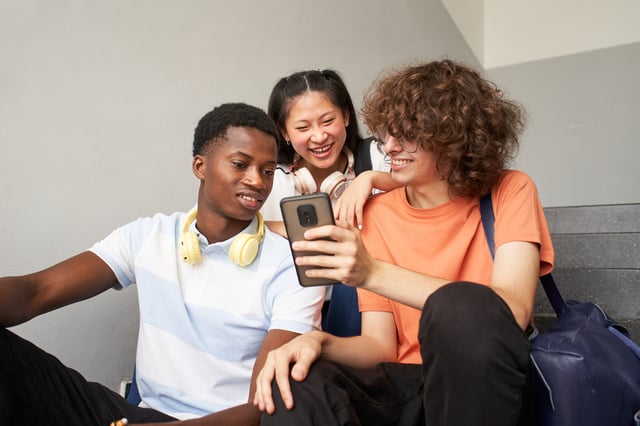 Optimized mobile experience
Being the first generation of digital natives, Gen Z has the highest daily screen time, with many spending up to two and a half hours a day on social media. With this in mind, ensuring your university's website formatting is mobile-friendly is crucial.
A clunky or unresponsive website will be an immediate deal-breaker for Gen Z. Your website should be intuitive and accessible from any device and provide quick access to relevant information like program details, campus maps, and scholarship opportunities.
More and more students are submitting their applications from a smartphone. Optimize the application process for mobile users and make navigation simple to avoid issues with uploading forms and documents.
Video formats are always changing
The focus on video content in digital marketing isn't new, but the optimal video format has changed significantly over the years.
Because most online content is consumed on a smartphone, vertical video has become the norm, surpassing the landscape-oriented videos typically posted on YouTube and Facebook.
The preferred type of content has also shifted: Gen Z favors user-generated content over traditional advertisement with a high production value. Reels and TikToks made by students are likely to perform better than professionally-made institutional videos - and it all traces back to authenticity.
Prospective students want content that will show them what their daily life will look like on campus; they want short glimpses of social and academic life told through the lens of students in their age group so that they can create a genuine connection.
With this form of content, simplicity is best. Keep the videos short and clean but not overproduced. And, while every video should always have clear audio and bold, large captioning is a must so prospective students aren't put off by having to find earbuds or headphones in order to watch your video.
Year-round recruitment strategy
Even though Gen Z are constantly bombarded with marketing content and have a notoriously short attention span, that doesn't mean things they see online won't stick in their memory.
This generation won't wait until their senior year of high school to start thinking about what university to attend. By the time they reach that point, they will already have seen countless posts and videos from students at different colleges without even searching for them.
When the time comes to make a decision, they will remember a TikTok or an Instagram post by a college student from long ago that sparked their interest, and that school will be the first name they search for. Now, universities can no longer focus all of their recruitment efforts in one season - it's imperative to be able to attract students all year.
You can never predict what's going to resonate with specific students. One might be entirely disinterested in a webinar about notable alumni, but a 15-second story by a student at a campus event can resonate for months or years later.
Marketing your university to Gen Z requires a strategic approach that aligns with their preferences and behaviors. Mobile-friendly content that values authenticity combined with a personable and effective online response team is the first step in earning Gen Z's attention.