Generation Z and Millennials may claim the lion's share of media attention, but another generation is nipping at their heels - Generation Alpha, AKA the iGeneration.
Generation Alpha are born between 2010 and 2025 and are the successors of Generation Z, and while some of them aren't even born yet, they are already shaping the future and the future of higher education marketing.
It is time to start prepping for Generation Alpha, and understanding their specific characteristics can help colleges and universities prepare for what's ahead.
Here are 10 things you should take into account when it comes to Generation Alpha and education:
1. They'll be the most educated generation
Generation Alpha is still in its infancy, but by the time its members come of age, they'll be the most educated generation ever. Social researcher Mark McCrindle told AdAge, "Generation Alpha will be the most formally educated generation ever, the most technology-supplied generation ever, and globally the wealthiest generation ever." This is good news for higher education institutions, but with a caveat: Generation Alpha also has high - and wildly different - expectations. The takeaway? The willingness and readiness of universities to meet these expectations is a mutually beneficial enterprise.
2. Technology will be key
Millennials may be the first generation raised in the digital world, but Alphas will be accustomed to the seamless and inextricable integration of technology into their lives on an unprecedented scale. In fact, evidence suggests that Alphas will surpass the technology skills of their parents before their eighth birthdays.
Dan Schawbel, research director at Future Workplace and author of Promote Yourself, told SmartBrief, "They won't know a world without virtual reality, smartphones, electronic readers, the Internet of Things and wearables. Using these technologies will feel very natural to them, and their behavior will influence older generations, as we've seen in the past with millennials and Gen. Z."
3. AI will factor into the educational experience
A decade ago, most of us could not have conceived of the impact of Siri, Alexa and Google Assistant in our homes and lives. For Alphas, it's the opposite: The presence of voice assistants and AI is a natural part of their existence.
Eduniversal Evaluation Agency (EEA) proposes, "[Generation Alpha's] approach to learning, fostered by their early introduction to smart tools, will be more assimilated to AI robots and quantum computers than to human conventional reasoning...The truth is that it's hard to predict how AI and Generation Alpha will interact when it comes to education, but it's almost certain that they will, likely on a daily basis. How will the knowledge transfer occur depends on how educators will leverage the power of AI to stay relevant."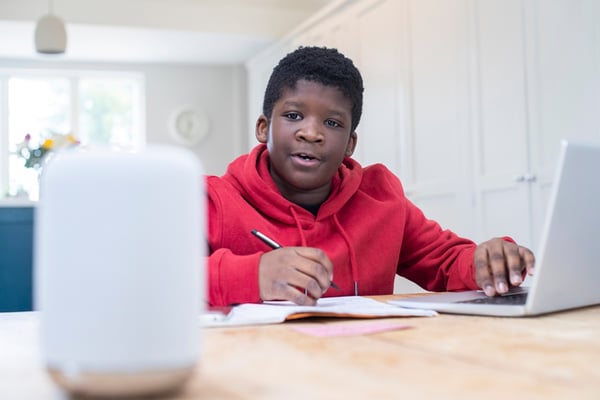 3. Highly personalized learning is a must
Alphas are used to the immediate accessibility of information. As such, highly personalized and targeted learning experiences are critical. University senior vice president and provost Pam Benoit told Nature Index, "The lecture will not work with them." So what will? Tutorials and other forms of facilitated learning, such as online learning modules.
While letting go of conventions can be hard, it's necessary, insists Benoit. "We're at a point in time when we have a conundrum. We have good ideas but we need to embrace risk in pursuing those approaches. When we create the future we have to explain ourselves and reset expectations," she insists.
4. They will require a "super education," but not necessarily degrees
Given Generation Alpha's ability to quickly and easily find information on their own, it begs the question: Will they even need college degrees? EEA says, "By the time generation Alpha reaches the job market, a Bachelor in business administration will be as unique as having an Instagram account. Generation Alpha will spend more years learning than any generation before as technology will move even faster. All-purpose diplomas that were very popular with the millennials will have a zero-face-value on the job market."
This isn't a death sentence for universities. Rather, it's an opportunity for higher education to evolve in order to deliver the skills and knowledge tomorrow's students and workers will want and need, how they want and need it -- with technology, online learning and real world learning taking on central roles.
Some universities already have a running start. Take a new engineering university in the UK which will offer students three-hour learning modules, 10-week terms, and a heavy focus on industry partnerships. Judy Raper, founding Dean of PLuS Engineering, which is developing a new university, told Nature Index, "We will expose students to problem-solving in industry, which is often way ahead of us."
According to geNEOus Founder and CEO Alejandra Otero, an entrepreneur specializing in digital marketing and student recruitment for higher education institutions, "There are many jobs [for Generation Alpha] not yet invented. And so there is a need to 'reinvent' and for 'lifelong learning'."
5. Educators must adapt, too
We've already established that universities must evolve in order to successfully court Generation Alpha. But the responsibility to evolve isn't entirely on institutions; teachers must adapt, too. Hack Learning calls for an "Alpha-balanced curriculum" consisting of "all access to everything all the time."
Hack Learning also reiterates the entrepreneurial zeal of Alphas, and their need not only to learn, but also apply that learning in situations where it's relevant to outside audiences. In short, says Hack Learning, "Generation Alpha will increasingly need to see a high degree of equilibrium between their worlds outside of school and how they interact and learn inside of school."
6. There's no time like the present to start planning
It may be years before a member of Generation Alpha walks through the doors of your institutions, but the time to start planning for the transition is now as it will require an overhauling of institutional cultures, according to Breakaway Learners author Karen Gross.
"If a university doesn't have enough bandwidth, plugs or charging stations, or doesn't have enough staff who are using technology, you can't wake up and suddenly fix all that when the alpha generation arrives. You have to plan and think through what the next generation will look like," Gross told The Guardian.
7. They'll be different kinds of employees in a different kinds of workplace
A decade from now, there will be five generations working alongside each other in the workplace. The Alphas will not only be the newest generational group, but also the largest one ever at an eventual two billion. So what will they be looking for in the workplace? According to David Bach, bestselling author of The Automatic Millionaire, Generation Alpha will impact the workplace in a multitude of ways, including working only for companies that align with their values; disregarding privacy at work; embracing diverse workplaces; choosing technology over human connection; expecting technologically advanced workplaces; requiring mental health support at work; and having the confidence to make a change.
8. Innovation is the imperative
There are many reasons for organizations to adopt cultures of innovation. One more to add to the list? Generation Alphas are inherently innovation-minded. According to Grant Thornton's Robert Hannah, "More than any youth generation before them Generation Alphas will seek the 'latest' and the 'newest' and they'll have no qualms about switching products and services. One consequence is that the life cycle of brands and products will become shorter. Brands will have to invest to make sure they have a new product and service pipeline that continually delivers."
9. Universities should also factor in Industry 4.0
The latest industrial revolution, Industry 4.0 - the trend toward interconnectivity, automation, machine learning, and real-time data - will continue to transform the workplace, including changes in employability. This, too, demands a response from higher education institutions.
Paul Johnson writes for The Drum Network, "Education is at the center of the skills supply. Yet, too often, HE stakeholders are reluctant to accept that now is the time to embrace innovation and craft a digital solution that will change the face of education. Universities can thrive in this new industrial landscape, but only if they have the vision to reimagine their approach to digital."
10. Video content is king
We've all heard the expression, "Content is king." For Generation Alpha, it's a bit more specific: video content reigns supreme. Says Otero, "This generation is viewing a lot more video. They are used to that. They are more impacted by video and they are pushing their parents to buy through video."
Otero's advice to higher education marketers, meanwhile? "I would implement a lot of video content. Nano content on a video basis. Little chunks of courses in their curriculum, instead of a push on sales, that has added value, on an experience level," she says.
Just keep in mind that the focus is not sales, but brand awareness. "[Universities] should start impacting [Generation Alpha] with meaningful content," Otero concludes.
While much of Generation Alpha are still pre-teens, the fact remains that this young generation already wields significant power, and will continue to do so moving forward. The more universities endeavor to understand them now, the better prepared they'll be to meet the future educational wants, needs, and goals of Generation Alpha.