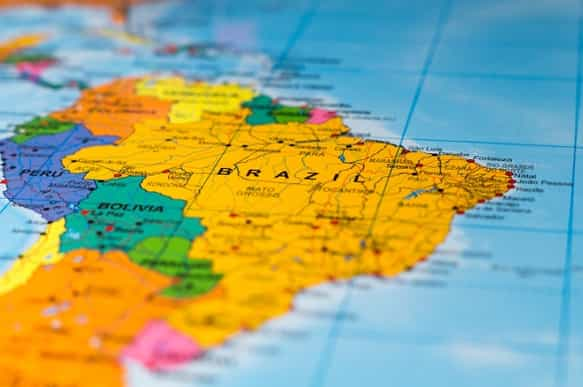 Knowing which countries or regions to target as part of international student recruitment activities can be one of the biggest challenges faced by university recruiters. One specific region that has been increasingly targeted by recruiters is Latin America, with universities looking at countries such as Colombia and Brazil to boost their international student numbers.
In fact, the popularity of attracting students from Latin America has grown so much that countries like Australia who traditionally received most of their international students from Asia are now refocusing their efforts. In the four years leading up to 2017, the proportion of inbound students from Latin American countries to Australia has almost doubled. While countries such as China still maintain dominance in this region, a shift has indeed begun with organizations increasing efforts to build this flow of students.
Yet this trend is not unique to Australia, with many universities around the world now aiming their activities at the Latin American market. Why exactly are these students so interesting to marketers and what can your institution do to attract them?
Who They Are
According to World Education News & Review (WENR), long-term economic expansion in Latin America's large, middle-income countries is creating rising numbers of students with both the capacity and the inclination to study abroad. Specifically, Brazil, Mexico, Venezuela and Colombia have seen the largest jumps in outward-bound mobility.
It's not just students who are showing interest in internationalization, but Latin American higher education institutions, too. While universities in Latin America were once hesitant to embrace partnerships with higher education institutions outside of the region and other internationalization strategies, this is changing. Doing so is helping to further bridge any gaps between Latin American students and the rest of the world.
According to the report QS Applicant Voices 2018 -- Latin America, women made up 55.1 percent of regional applicants during the 2017-2018 academic year and the average age at the time of application was 25-years-old. It appears that this audience has a strong female component that may be more likely to be seek mature or postgraduate study.
What They Want
The QS report further reveals that Latin American students are more likely than those of any other region to value exchange opportunities. A major factor driving the shift, according to WENR? Skyrocketing demand for English language skills by governments, employers, individuals and within the higher education sector itself. What a better opportunity to develop language skills than higher education abroad in a native English speaking country?
According to the report, Latin American students are also drawn by the prestige and diversity available overseas; their preferred disciplines for study are Business/Management (22 percent), Engineering (18 percent), and Accounting & Finance (12 percent); and they view problem-solving, leadership and teamwork as their top skill development goals while pursuing studies abroad.
According to EduHop, while acknowledging the "non-monolithic nature of Latin American cultures" is important, a few common underlying factors that stand out to prospective Latin American students include:
Favorable exchange rates
Quality of life
Educational rankings
An international student-friendly environment and structure
Work/study opportunities.
Where They're Going
Despite trending interest in Australia as a study destination, Latin American students have shown interest in a variety of global study locations. According to a survey of over 4200 Latin American students, their top three preferences for study are the United States, Canada and Australia.
In the US, for example, Brazil, Mexico, Venezuela and Colombia are among the top 25 sending markets to the US, and this trend is expected to grow moving forward. In sum, Latin American students now make up more than seven percent of international enrollments on US campuses while 51 percent of students surveyed by QS expressed interest in studying there.
Which begs the question: How do students choose between destinations and universities? Data shows that culture is a primary driver, followed by international recognition of qualifications and location, according to QS. Wanting to work abroad after the course of study; scholarships and financial aid; network of connections; cost; and visa considerations are also factors.
In terms of drilling down to a particular institution, meanwhile, key considerations included funding; an institution's reputation in a chosen subject area; comparative cost between programs; course structure; institutional reputation; location; profile of graduates; department reputation; and personal recommendations.
Also worth noting? Latin American education systems' expanded capacity has not only increased the number of outbound students, but also the number of potential for mobile international students exchange.
Potential Barriers to Recruiting Students from Latin America
While Latin America's economy has been booming, there is some economic uncertainty .which could lead to a slowdown in outward-bound mobility. Furthermore, as Latin America's higher education system increases its capacity, increase in regional studies may follow thereby compromising exchange.
Another major factor impacting the ability of international student recruiters to reach Latin American students? Language. While interest in acquiring English language skills is high, English proficiency is relatively low. In fact, according to the EF English Proficiency Index, Latin America is the world's only region to have seen a decline in average adult English skills since 2017. As a result, Spanish marketing is critical, while marketing in the correct dialog can offer an additional inside edge. This doesn't mean that students are looking for more coursework and degrees in Spanish, but it does mean they may be looking for more special support programs aimed at helping them develop and hone their English language skills such as foundation and pathway programs. Furthermore, marketing to Latin American students in their native languages doesn't just help you reach them, it can also help ameliorate concerns regarding the "eventual alienation from their culture" that some fear may come with embracing English.
Another obstacle or opportunity for all prospective students, including those from Latin America? Visa policies. A simplified process for visa approval, as well as the possibility of working as a student while enrolled and/or the option to migrate following completion of the course of study can make a destination more appealing.
We've addressed that finance is an important factor, especially for students from Latin America's poorer countries. In some cases, higher education -- especially international higher education -- can simply seem out of reach. Raising awareness about scholarship support can help mitigate these concerns. Additionally, introducing more short courses and summer programs can create more affordable pathways to international study when the interest is there but the means are missing.
Latin Americans aren't immune from the trend among students to value intangible experiences over hard data, like academic rankings. While open day visits can be invaluable to domestic students when it comes to conveying they experience they might have as a student on a particular campus, international students are far less likely to visit. Marketing strategies which incorporate storytelling can help to fill the void also such a virtual campus experiences and online tours.
Says SI News, "When the opportunities for face-to-face contact are removed, digital media becomes a crucial mechanism for building a rapport and must offer genuine insight into the 'feel' of the institution; storytelling enables this to happen." Specifically, portraying your institution's high-quality teaching and welcoming attitude toward international students in an engaging way can be especially compelling. Enter virtual tours and video content "A combination of imagery, soundtrack, mood and voice can all work together to provide a more immersive story for the viewer. Seeing a number of friendly faces, listening to genuine warmth and enthusiasm and walking alongside someone on an exciting journey is much more convincing than simply saying that everyone is welcoming and you can have a good time here. It's a good example of 'show' being more powerful than 'tell'; watching the film can provide a much richer experience than simply reading the book," continues SI News.
Lastly, none of this matters if you're not meeting prospective Latin American students where they are. Understanding how they're accessing information can help you better reach and target them. University websites, general online searches for research, institutional rankings, program-finder websites, and social media comprised the top five information sources.
As enrollment shortages threaten higher education recruitment, international markets represent fertile ground. One of the ripe areas of opportunity? Latin America. As such, rethinking your overseas recruitment with a focus on Latin American students offers notable promise.