Even before the COVID-19 pandemic, the U.S. college enrollment crisis forced colleges and universities to shift their course delivery options (online and hybrid) and pivot their recruitment strategies.
In the midst of this,
Generation Z
and adult learners were simultaneously changing their stance on the value of a degree. New rhetoric on higher education began to take shape: Is a four-year degree worth it?
Climbing tuition costs, anxiety about student loan debt, rising inflation, and a
labor shortage
mean many Gen Z's are veering away from the traditional four-year education.
The
ECMC Group
found cost ranks No. 1 (43%) ahead of a college's value or potential career placement in a study of Gen Z's postsecondary concerns.
And this shifting mindset is present today. According to the
National Student Clearinghouse Research Center
, only 51% of Gen Z high school students are considering pursuing a four-year degree, down from 71% in May 2020.
Kerry Healey, president of the Milken Center for Advancing the American Dream
said,
"
Employers recognize that the lack of a credential from a four-year college doesn't mean a person lacks the skills, drive, or ambition needed to succeed in the workplace."
So, what alternatives is Gen Z considering? How can they acquire new skills quickly and earn an income even faster without paying for a four-year degree they aren't sure is worthwhile?
What about adult learners who need to stay competitive and upskill to stay on top of their game?

How do they prove they can succeed without a four-year degree?
This is where
short courses
,
bootcamps
, and
micro-credentials
come in.
These are just a few nontraditional pathways that U.S. colleges and universities offer — not to be mistaken for massive open online courses (Moos) like Coursera, edX, Udemy, and FutureLearn.
To provide traditional students and adult learners what they want most — flexibility, time, and far lower tuition than a four-year degree — higher education has tapped into alternative pathways:
Education-based short courses
Adult learners and professionals can find short learning courses to be a great way to develop a new skill set or expand their knowledge of a certain subject.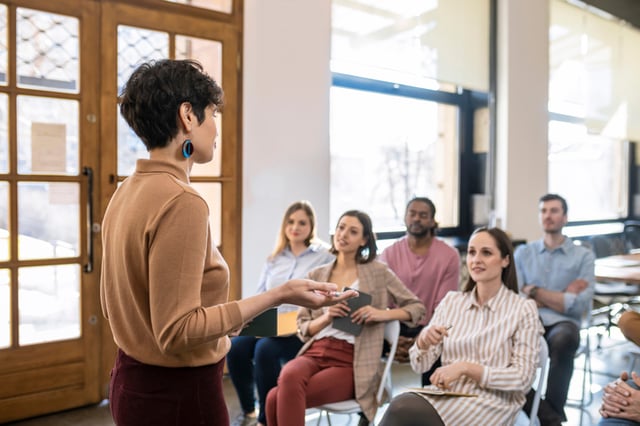 As technology evolves and programs and practices change, workers need to learn new skills quickly, and with short courses being just that, completing one can take one to 12 months.
Professional short courses, short-time courses for teachers, and computer education courses
offer certificates and diplomas in tourism and travel management, applied mathematics, special effects and animation, and more.
Northwestern Medill
in Evanston, Illinois, offers short courses such as AI-Driven Marketing, Digital Marketing and Media Strategy, and Leading Diversity, Equity, and Inclusion.
Short courses are often perfect for international students. Many universities allow students to take classes without enrolling in a degree program. For those seeking the experience of studying in the U.S., a short course is a great way to take the first step in considering studying abroad.
The long-term benefits of short courses are valuable for professionals and those wanting to get a glimpse into what college is like in the U.S.
The return on investment of short courses:
Less than a year to complete

Less expensive than a full-degree program

Often awards certification

Helps professionals become more marketable
Bootcamps
Online bootcamps are rigorous, intensive, short training courses that place a strong emphasis on hands-on learning and practical experience. Many colleges and universities offer coding or tech-related bootcamps. Depending on the school and program, bootcamps can be completed in three to six months.
The University of Minnesota
offers a Learn to Code bootcamp with part-time or full-time programs. Part-time courses can be completed in 24 weeks, with full-time courses taking 12 weeks. The full-time program costs $12,245.
But compared to the cost of a four-year computer science degree, $12,245 might seem more reasonable than roughly $65,000, for example.
In most cases, bootcamp graduates will have 3-4 years of experience in the industry after completing the course. Although a bootcamp grad can pursue a job immediately after all courses are complete, they might have to boost their resume with soft skills, link their past work experience to the position they're after, and prove to HR managers and recruiters that they have desired industry skills and competencies.
Return on investment of bootcamps:
Complete in 12-24 weeks

Less expensive than a four-year degree program

Often awards certification

Provides relevant, practical experience

Micro-credentials
Micro-credentials are clickable icons that link to show someone has learned a specific skill. They house information and proof that they have met the required criteria to be awarded a micro-credential — and it's a viable way to prove those skills to employers. Some people add them to their resume, CV, LinkedIn profile, or email signature line.
Programs to earn micro-credentials are more affordable than a four-year degree, and both traditional students and adult learners can earn them, depending on the college or university.
According to Brookings, in a world where most workers don't hold a higher education degree, micro-credentials are critical to the future world of work.
Many institutions offer micro-credentials, including the University of California, Irvine, Western Governors' University, MIT (Massachusetts Institute of Technology, SUNY (State University of New York), and the University of Albany.
Return on investment of micro-credentials:
There has been a significant shift in how teens and adult learners think about education — and more and more are looking for options beyond a four-year degree.
Above all, transparency is key.
Parents and educators, colleges and universities, and enrollment managers and recruiters need to make sure they provide the correct information so the right education — for the right goals — is the right path.