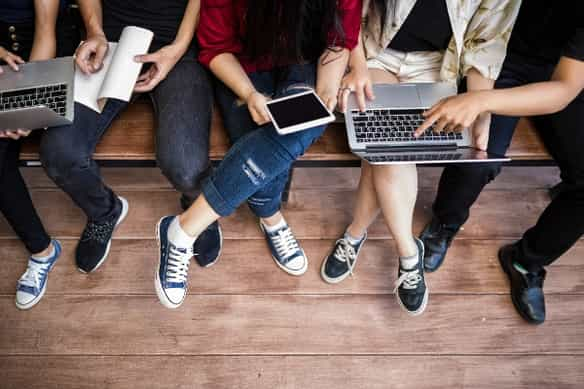 Today's Gen-Z students spend most of their time consuming digital media, whether that's on Instagram, TikTok, Facebook, or searching the web. Where once upon a time students would use traditional means of researching study options, like going to open days or scouring university magazines, today's students are looking online. This provides a powerful opportunity for university marketers to reach students where they're at: online. With this in mind, how can educators make the most of digital marketing to ensure they're not only attracting students, but capturing their attention as well? In this article, we're going to explore the best digital strategies for lead generation so you can be confident your marketing efforts are effective.
Optimize your website
The first place to start is your website. Before you can drive marketing campaigns, you need a place for students to go. Think of your website as a digital home with every page taking students on a journey. Your website has the opportunity to turn a prospective student into a lead. When a prospect becomes a lead, it simply means they are taking the next step to decide whether your university is a good fit for them. However, you only have a few seconds to capture prospects' attention when they land on your site. Here are a few ways you can grab their attention:
Improve the copywriting - Ditch the stuffy, formal language, and start using language your students actually understand. If something is confusing, it could be preventing students from taking action. Start mirroring the language of your prospects by writing in a way that shows you understand their desires and struggles. This will help them know your university is the right choice for them.
Clean up the design - Today's students are used to scrolling through eye-catching images all day on social media, so if your website uses out-of-date designs, they're bound to click away. Improve your website design by sticking to a clear brand style guide, and making the pages easy to navigate.
Optimize landing pages and forms - Keep your landing pages clean, engaging, and to the point. Make forms as easy possible to fill out.
Include clear calls to action - People won't always take action unless you ask them. So, be sure to make it obvious what you want them to do next. For example, if you have a checklist or free class or virtual tour, you might want to use the words "get it now", "watch now", or "save your seat". .
Create a live chat box
Your website should have multiple conversion touchpoints that compel visitors to learn more. To create an engaging experience, allow visitors the opportunity to interact directly with an admissions representative. Traditionally, this has been done through a contact form. However today, live chat boxes are becoming increasingly popular as they provide students with the opportunity to get their questions answered quickly. Many students are accustomed to using chat as a part of their daily lives, through Whatsapp, Instagram DMs, and Facebook Messenger, so incorporating chat as a communication channel is a great way for institutions to connect with the younger generation.
Invest in easy and efficient marketing tools
In order to successfully reach new students, educators must continually stay on top of the latest digital marketing trends. Keystone Academic Solutions have specialized in the challenge of recruiting millennial students. Everything they do is optimized to provide students with a meaningful and tangible recruitment experience. The unique strategy aims to engage students at the earliest point in their higher education search by tapping into organic, non-branded queries. Keystone make programs and schools visible in more than forty languages, so students can find your profile no matter where they're located. This means students find programs and schools listed on Keystone's websites the way they find all their information; at the top of their search results in all the most popular search engines.
Students trust Keystone because the carefully and individually designed profile pages present relevant resources related to their interests without any unnecessary advertising or gimmicks. Your clean, easily-accessible profile will invite students to contact your admissions officers, and our tailored recruitment system ensures those enquiries come from qualified, potential students.
Create a virtual tour
Virtual tours are also becoming increasingly popular this year. They allow students and their parents to view campus facilities and accommodations through 360-degree tours. Software companies like 3D Vista and Easypano facilitate the creation of these kinds of tours. The tours can be embedded on your website, or simply linked to via your navigation bar. In order to capture leads, marketers could put these tours behind a landing page that requires viewers to enter their email addresses for access.
The University of Liverpool has an interactive virtual tour available via website, that prospective students or parents can watch anytime. This allows them to get an "on-campus" view of different areas of the university through videos and images without having to be there in person.
Host a virtual open day
With the COVID-19 pandemic forcing educators to innovate, many universities have turned to hosting virtual open days. More comprehensive than a virtual tour, open days provide students with the opportunity to engage with faculty members. An engaging open day generally includes webinars, resource material, and even the opportunity to chat one-on-one with lecturers from particular faculties. The flexibility puts event attendees in control of their experience, which means they're able to choose the interactions they have, boosting the chances of creating a warmer lead.
One of the main benefits of hosting a virtual open day is the comprehensive follow up that can be achieved. Attendee contact information is gathered from the registration page, and you can to track attendees who download certain materials. This allows you to provide very targeted post-event follow up based on a student's interests.
When looking for the right platform to host your virtual open day, we recommend doing your research. Here are a few providers worth checking out:
Bolster your organic social media strategy
If you don't have a consistent social media plan, you may be missing out on qualified leads. As students spend a lot of their days scrolling through Instagram and Facebook, you have the opportunity to market to them there. Create a social media strategy that includes educational, entertaining, and informative content to grab prospective students' attention. One creative new way to use Instagram is by creating Reels. You can learn more about how to do this here.
Most importantly, your social media strategy should always have the goal of taking prospects to the next step in the customer journey, whether that's signing up for a virtual open day, or tuning in to a webinar. To encourage students to take the next step, you should include strong calls to action in your Instagram captions and on Instagram stories.
If you're interested in knowing how Keystone help you get in front of the right students, you can click here to learn more!