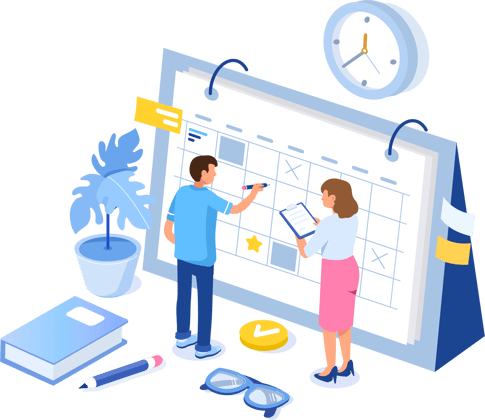 The start to a new academic year is a busy time in the international office, but with a few simple recruitment hacks you can quickly get ahead. We offer some wisdom taken from our experience working with over 4200+ universities, helping to get your international student recruitment off to a strong start.

Plan out your marketing activities for next year
It may seem strange to consider the next year before the current one has even begun, but advance planning of outreach activities is necessary in the world of student recruitment. The average time it takes for a student to go from general enquiry to application usually ranges between 9-12 months, but in many cases even as long as 24-48 months. International student recruitment is not an overnight process, requiring extensive planning and patience so your planning should reflect this.
Planning Tip! If you do not have a formal plan, you can easily create a simple version to share with colleagues. Map out your core activities for the year and highlight key target markets. Consider new or experimental methods that you may want to investigate during the year, giving ample time in advance to prepare. Make space to apply contingencies and allocate a portion of your budget to initiatives that can be easily transferred if priorities change.
If you haven't already begun planning your activities well into the 2020-2021, you may very well be missing out on opportunities. Recruitment pipelines can last for years, so your activities should be aligned to match different stages of the student journey. Map out the student journey, and plan marketing and communications to fit accordingly.
Be prepared – create an action plan
The beginning of the school year is always busy no matter how much advance planning is made, but it doesn't hurt to reduce potential stress if you can. Take some time during off-peak periods (i.e. summer) to reflect on the past year, noting challenges observed and goals that you would like to incorporate as the new year begins and throughout. Use this to build an action plan detailing short-term goals that will be actioned within the first few weeks or months of the academic year, outlining roles and responsibilities for the department, as well as for individual team members.
During these times, daily activities may differ significantly from normal. An action plan can be useful to communicate expectations during these periods and help drive team-wide adoption of the plan. Be prepared to shift time and resources towards more administrative tasks such as communications and answering emails, especially in the first few weeks of orientation. Focus on being proactive towards students, offer extended availability during the first few weeks, monitoring communications channels regularly throughout this period. By creating an action plan, your team will be ready to face potential challenges head on.
Avoid pausing promotions in off-peak periods
Some universities incorporate an intermittent style of marketing strategy as part of their international recruitment. This usually involves heavy promotion during peak periods such as pre-application dates, with no active promotion during non-peak times.
For those promoting to an international audience, the intermittent method can be counterproductive to the successful recruitment of students from around the world. Summertime, working and vacation periods differ globally, so the time of the year that potential students conduct their research or make their application evaluations is different for all. By switching promotions on and off, your school runs the risk of being missed entirely by students during periods without promotion.
Blanket coverage, even if only minimal is the best method to ensure the best penetration of marketing activities. Boosting promotions in peak periods is an excellent way to pick up extra interest, but if there is any point at which a student is looking for an institution, and they cannot, then it is a lost opportunity for your programs and institution.
Boost your welcoming efforts – welcome & orientation
Whether it is via email or in a welcome session ensure that there is some form of introduction made to the new class. While some universities have extensive orientation and welcome activities, many still have room for improvement. New students are an audience eager to receive information and induction, especially if they are new to a country or area. Make the most of this by giving them a warm welcome to life at your institution. Recruit other faculty members to help out - directors taking the time to write a brief email can provide an excellent personal touch to beginning a new degree, in addition to the general welcome activities.
Your new cohort is your greatest asset in terms of creating positive word of mouth about your school or program. Think of these new students are your future student ambassadors, and treat them as such.
Orientation Tip! During orientation, seek out volunteers to write about their initial experiences and generate testimonials that will be helpful to other students going the application and enrollment evaluation processes. International students will appreciate an enriched experience before, during and after they experience life at your institution.
Follow up with students who didn't apply
Many students who did not apply last year may be ready to apply by the time your next applications come around. A dedicated communications plan is vital to maintaining the interest of students who are considering your programs during non-applications periods. Keep an on-going dialogue via emails and social media activities to ensure that students are reminded of your brand, even if action is not required. This will help to build "top of the mind" awareness for your programs when application decisions are made. Some useful examples are:
- Keep potential students in the loop with informational emails as you go throughout the year. This is especially important if you have only a few application dates available.
- Plan to send an email detailing the start of a new cohort. Capture and maintain their interest!
- Be creative with your communications, going past the general answering of questions and providing university/program information. Don't be afraid to try new things, focusing on engaging your student leads!
While it may seem like commonsense, a few simple strategies implemented at the beginning of the academic year can make a huge difference by the end. With this approach, you can save time, reduce any waste of resources, improve the student experience and potentially recruiting even more — creating positive outcomes for all.
Want more tips? Download our "Responding to Student Enquiries" infographic here
Download here