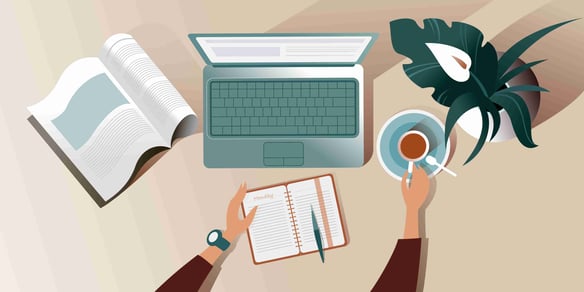 Enrollment in online programs has boomed over the last few years, with one third of all students now taking at least one online course. It's no surprise, as online study offers students the flexibility of learning from wherever they are, sometimes even whenever they want. However, this growth hasn't come without challenges.
The increasing uptake has meant that education institutions have had to tweak programs to be appropriate online while spending budget on associated faculty training and technological upgrades. To remain competitive, universities need a distinctive marketing strategy for their online programs and a tailored message to reach more of the right students.
So what are the key determinants of a good online program or online university? We take an inside look at student motivations and the best practices of online providers leading the way today.
Get your brand out there – determine your target markets and look for potential niches
Too often, program creators think that once they've got the curriculum finalized, they will have students signing up for their courses. But this couldn't be further than the truth. In reality, you need a comprehensive launch plan and ongoing strategies to market your online courses to prospective students.
Early pioneers of the online education industry, such as the University of Phoenix, spend millions of dollars every year on their online marketing - $27 million in paid search advertising alone in 2017. Correctly aligning your marketing mix doesn't have to involve spending millions of dollars, but you should achieve a standard of visibility. You can do this by determining your top desired markets, looking for prospective niche student audiences and creating a marketing strategy that represents your programs and brand where you need it the most. Remember that the moment you stop marketing is the moment you stop selling your courses. Implement ongoing marketing activities to consistently build brand awareness and sell your courses. These could include content marketing such as feature articles, running advertising on an online platform, growing an email list, partnering with education influencers and having a social media plan.
Be creative with curriculum
When it comes to online learning, educators have the distinctive opportunity of being able to implement an enriched curriculum, free from physical restrictions. Students wanting to study online are also more likely to be progressive and appreciate unique offerings and cutting-edge learning. An engaging online course should involve natural learning content and smart use of multimedia that appeals to visual, kinesthetic and other learning styles.
One unique online course is Harvard Extension Schools' Sustainability Certificate, which has been designed for students who want to promote sustainability in their community or business. This program is made up of five courses. "Knowledge Set" courses such as "Energy and the Environment," "Strategies for Sustainability Management," and "Sustainable Business and Technology," provide students with a foundation of understanding. "Skill Set" courses such as "Catalyzing Change: Sustainability in Leadership for the Twenty-First Century" and "Introduction to Sustainable Buildings," help students take action. What makes this program truly unique is that while it is offered by an ivy-league school, it is also open access, meaning anyone can start the course without needing to apply.
Offer personalized, flexible study options
The key reason students choose to study online is that it is flexible. Course instructors need to remember this when creating content and scheduling assignments. Online courses should pace assessment so that students remain engaged but are not overloaded on any particular week. Successful online programs do this by allowing students plenty of time to work on major assignments while using minor assessments to keep students engaged.
When it comes to flexible learning, executive education business school IMD is leading the way. IMD brings its top-quality face-to-face learning to offices all around the world with its personalized online executive programs. Their Global Leadership in the Cloud program, one of their key offerings, engages participants in an interactive experience with individual coaching, learning partners, feedback and recommendations provided throughout the course.
Promote interactivity, increasing student engagement
Engaging online students is key to their success. New technology and design tools can be used to bridge the gap between students learning from home and real-world applications. Project work should not only include compelling content but should take advantage of video production and social learning opportunities. These tools can even be used to allow students to virtually experience real-world situations that they can problem solve using the concepts learned in their course.
George Washington University encourages its online counseling and art therapy students to use video to record mock therapy and counseling sessions for their professors to review. This enables students to put their knowledge into practice on a flexible schedule that best suits them and their professors.
Create a community for your learners
Peer or social isolation is often considered somewhat of a trade-off when it comes to online learning, but it doesn't have to be. With message boards, group video chat and online seminars, technology has allowed the classroom to be redefined.
There are many ways community can be created for students in online courses. One simple way is to include off-topic discussion boards that allow students to talk about anything from the latest football game to their favorite restaurants. Another way is to involve students in group video chats and to allow them to virtually 'sit in' on lectures by tuning in live.
Depending on the design of the course, professors could send students weekly or bi-weekly email updates about upcoming assignments, readings, and due dates. Instructors could also send video recordings of themselves sharing announcements, which helps to breakdown isolation by providing face-to-face connection. Video also allows students to get to know their professors and feel more comfortable asking them for help.
After integrating instructor involvement with the students, the next step is to encourage students to collaborate. One way to do this is to introduce Professional Learning Communities (PLC), which is a group of students who help each other with issues or course topics via email, discussion boards, video conferencing or group phone calls. Instructors can assign roles to students within the PLC to ensure reluctant members are being engaged. By creating a strong community, your students are more likely to ask for the help they need and take risks in their learning.
Get the tech right
Just because a student is studying remotely, doesn't mean it has to be boring. Course creators should harness the power of the online world to create a meaningful and engaging experience for their students. Good online courses should make use of multimedia, like videos, audio, interactive activities, and polls, as well as other elements. To make multimedia effective, it always needs to be connected to a deeper purpose and be produced professionally.
Online course creators should also ensure that the online experience is seamless. If the layout or design of an online program doesn't make sense, students will quickly disengage from the sheer amount of time it may take to find what they're looking for. A good online course should always be reviewed and tested by multiple users to ensure it's easy to navigate before it's opened to students.
It's all well and good to have fancy technology, but if it doesn't do the job properly, then it could waste a lot of time for students. Avoid the temptation of incorporating flashy elements just for the sake of it. Always carefully select technology that is reliable and fully supported, to ensure a seamless experience for your students.
Advertise your support services
If students don't know they can ask for support, then it's more than likely they won't and will simply settle for being confused. Make sure all students are aware of the details of your IT support team, so they can get the help they need.
Similarly, professors need to be supported by a team of online program specialists and IT staff. Professors simply can't be expected to know all there is to know about the latest online technology from the get go. Professors should receive introductory and ongoing training to help them effectively translate their classroom teaching for the online space. Better trained professors will be able to provide greater support to their students, which will ultimately result in stronger learning outcomes.
Emphasize student success and employment outcomes
With online courses providing more flexibility, students can work while they study. This allows students to be able to get the experience they need while providing a pathway into post-graduate employment.
The ever-changing technology landscape has meant that education institutions of all sizes can take on more students than ever before. To ensure that your course is appealing to new students, be sure to stay at the cutting edge of technology while providing the right support and in-depth content for your students' success.