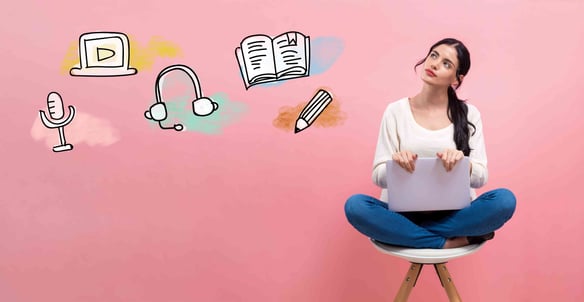 Thanks to virtual learning technology, thousands of universities around the world have been able to shift their teaching model from in-person to online during the pandemic. The internet has helped millions of college students stay connected with career services, academic support, professors, and each other despite physical restrictions. However, like anything in life, remote learning also comes with a few challenges for both professors and students.
The world of online education
When referring to online learning during the pandemic, it is important to note there is a significant difference between pandemic-influenced delivery and fully developed online universities and programs. Online universities have been growing in popularity, long before the pandemic. Many are well-known for offering high-quality curriculum and cutting edge learning methods that attract students from all over the world.
Studies also show online learning is ideal specific types of student. One significant selling point of online education is flexibility. Students can take pre-recorded or live classes at night while raising a family, or working a full-time job by day. For tech-savvy students, online learning is perfect. Not only does it cut down on commute time and tuition cost, but some students prefer digital classroom learning and test-taking to in person instruction.
However, not all students are online learners; in fact, most weren't pre-covid. The pivot to online learning may have been essential for keeping students on track for their intended graduation term, but are they getting the most out of their degree program? During the enrollment process, many students use spreadsheets, pros-and-cons lists, college counsellors, and specialists to make their "best-fit" college decision. One of the first checkboxes is preference for on-campus learning versus distance or virtual delivery. For those selecting to go the in-person route, technology can be an essential factor.
Keep access to technology in mind
In wealthier countries, technology is a natural part of everyday life and studies. Yet in some global communities, a lack of technology isn't a choice but a way of life. Many international students not only rely on the campus-supplied laptops and library computers, but they may also not have another choice.
Another challenge facing remote learners is they may not have anyone to turn to for help. In a traditional classroom setting, students raise their hand, and usually, the professor calls on that student, and the question gets answered. For many experienced professors, their training has been focused on the lecture or collaborative classroom setting, not a digital space. With professors playing catch-up with technology throughout 2020, students may feel awkward asking for help when they digitally don't know how to raise their hard.
Not all students have equal access to technology. Some colleges offer laptops and iPads to every enrolled student, but the majority don't for remote learners. Last summer, students scrambling to update their devices and improve their remote learning experience struggled to purchase laptops due to a global shortage. It looks likely the hybrid education model will continue through 2021. In that case, colleges and universities should plan tech-purchases early, or encourage students to make their technology purchases in advance.
Make screen readers, computers or other equipment recommended, or maybe even mandatory, for a class if it requires it. Institutions can also create loan-systems with computers or iPads to help less privileged students participate. It is important to recognize the struggles a lot of students are going through economically, and try to make the best of it by helping and offering resources to those who need it.
Providing support where students need it : the IT department
In the COVID-19 era, Informational Technology departments have felt the strain of the pandemic. When professors and students are able to connect withIT to solve an issue, they won't get the in-person training many require to learn a new digital skill. This demonstrates the need for IT departments to receive more funding.
In "Bridging the Digital Divide in higher Education" we discussed adding another tuition fee, to help increase your university's Information Technology department's budget and staff. Some families may question individual billable costs like "service fee," "student activities fee" and "events fee," if they don't know what it goes towards. A good tip here is to bring them into the loop and explain what it covers, and not. An increased IT fee however, could be a necessary expense for any traditional or virtual campus.
As the Internet continues to play a more crucial role in students' lives before and after earning their degrees, universities must justify the cost of a savvy, highly educated IT team to run the network, and maintain stability in the entire campus community. Professors, students, and university leadership may be the face of the campus, but in our increasingly digital world, IT is the foundation of a solid institution.
What if your institution can't afford a more robust IT department?
One solution would be to include a mandatory "Introduction to Remote Learning" course for all incoming students. This pre-recorded course could serve as an orientation piece for years to come, and will help students understand the ins and outs of your institution's remote learning portal. Each session will be available to all students, faculty and staff for their tenure at the university, so it can be accessed at any time. The IT department can provide frequent updates, so the classes keep up with the ever-changing technology.
Support your faculty with training & skills sessions
At "Emory College of Arts and Science, professors became students" in Summer 2020 to prepare for the remote fall semester. According to the article the professors "have completed intensive training in online course design and teaching, focused on developing new and creative ways to teach in a remote format so that every class includes highly engaged, student-focused experience expected with an Emory Education''. Dean of Emory College and Candler professor of english, Michael A. Elliott, says "The dedication and work of our faculty for our students throughout this past summer was truly remarkable, and I am proud of them,". "I am confident we will deliver on our educational promise and more. With ingenuity and compassion, we are creating the personal connections that our students want and need to keep our community together."
COVID-19 has significantly impacted higher education's relationship with technology worldwide. Adapting to change is nothing new for universities and the students they serve. The silver lining to forced remote learning is a more technology prepared global population. While we are far from technological equality, non-restricted internet accessibility, and campus-wide remote learning confidence, have shown community resilience like never before. We have yet to witness the unlimited potential we have as a more connected human network, and digital innovation can get us there.