When choosing a university to study abroad, scholarships and funding are often the top deciding factors for international students. However, as only some schools have the budget to fund every incoming international applicant, admissions teams must employ other strategies to attract and retain international students.
These strategies should focus on supporting the students throughout their study abroad journey, right through to securing a job upon graduation.
Here are some strategies to support and keep international students at your university.
1. Language classes and writing skills development
Most programs require proof of English proficiency through tests like Toefl or IELTS as part of the application process. But even with proven proficiency in the language, many students haven't had much experience studying in programs fully delivered in English.
Moreover, as a 2015 study by Sam Houston State University and Grambling State University concluded, the results from proficiency tests don't always reflect the student's confidence in their language skills. The study also reported that to support international students' success, universities and professors should jointly offer supplemental courses to help improve students' language and academic skills.
Any difficulty utilizing and comprehending the language can cause the student to fall behind in classes or struggle with written assignments, endangering their academic performance and, consequently, their permanence in the country.
Universities can offer English as a Second Language (ESL) courses open to the international student community. With classes focused on helping those who don't have English as their native language meet the school's academic demands, the administration can ensure international students thrive in class, which benefits the students as much as the university.
Beyond ESL classes, a writing-focused program can significantly improve students' academic performance. Because a big part of academia revolves around written assignments and publications, international students need to practice their skills in writing academic papers according to the school's expectations.
2. Proactive academic counseling
Education is different in every country, so international students usually need assistance acclimating to a new academic culture. With proactive tutoring, advisors will not wait until a student's performance starts to fall and seek help; instead, they will reach out and guide new students throughout the year.
An academic tutoring program can help them succeed in all steps of the learning process. From how to participate in class to how to interact with professors and meet every academic demand, students will have access to comprehensive academic counseling and a much greater chance of enhancing their overall academic performance.
When students feel confident in their studies, they are much less likely to be overwhelmed by the pressure and develop anxiety or other mental health issues. If they feel supported by the university, they will want to continue investing in their education.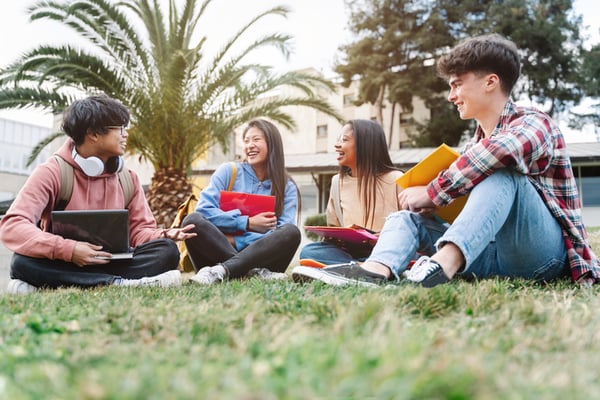 3. Professional development and career advising
Many students choose to study abroad with the goal of starting a successful career in a new country. However, their entrance to the international job market doesn't always happen as quickly as expected.
Giving students the opportunity to develop work experience on campus will make them more attractive candidates for future employers. Partnerships between the university and local companies to secure internships for international students go a long way in preparing them to join the workforce post-graduation.
Many businesses don't understand visa and immigration regulations and assume hiring an international student would be too much paperwork. Consequently, they end up favoring domestic candidates. The university can help companies overcome this obstacle by creating guides and resources explaining how different visas work and how an international candidate can be employed.
It's also imperative to educate the students themselves. By creating resources and hosting information sessions, the school's career center can ensure all international students know their rights and which work regulations they must abide by to keep their visa status.
4. Mental health support
Feeling the pressure of an academic environment isn't uncommon: a recent study showed that the consequences of said pressure are more severe than ever, with over 60% of surveyed college students meeting the criteria for mental health issues.
International students are often even more likely to struggle with mental health, given the added challenges they face at university. In addition to the pressure to achieve good academic performance, they have to deal with language barriers, culture shock, and financial stress and deal with it all while being away from family and friends.
Even though most universities offer mental health assistance to the community, not all students will feel comfortable seeking help when the stress reaches a critical point. To help bridge the gap between students and student services, the university should provide helpful information all year long and encourage students to use the resources available, thus making them feel comfortable going to the university for help managing challenging times.
Ensuring your students are healthy and able to focus on their studies and achieve their academic goals is paramount in keeping them at university. Having multiple channels for engagement with the student community will help maintain the necessary healthy communication between the administration and students.
Another way of keeping up with students' needs is to organize frequent surveys to assess student well-being on campus, with more attention to minority and international groups.
5. Setting students up for success
Universities can't leave their students to fend for themselves and expect positive results. Or, at least, they shouldn't. Most universities already have a student services office - some even have one dedicated exclusively to international students - and provide comprehensive support to their community. Even when it's impossible to offer full funding to all international students, employing the strategies detailed above will show them the value of the school.
When international students feel supported by the administration and see their school is doing everything possible to set them up for success, the lack of financial assistance won't be a dealbreaker, and they will continue to see the university as a worthwhile investment.