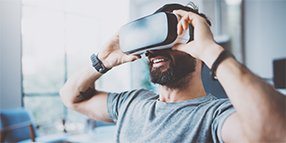 Technology is shaking up every sector, including both business and higher education. How can we expect to see technology showing up in business school classrooms in the future? Here's a closer look at six emerging technologies business school leaders should know about.
1. Recruitment technologies
The campus visit is a rite of passage for many college students, both at the undergraduate and graduate level. However, these tours can be costly and time-consuming -- especially for international students. In an effort to remove this barrier, more universities are turning to virtual reality (VR) tours to attract tuition-paying international students.
School administrator Kevin Merges told Market Brief of the effectiveness of this strategy when compared to traditional videos, "The impact of virtual reality is a 40 to 70 percent increase in a person's connection to the content."
2. Classroom Role Playing, Simulations and Gamification
The potential of VR for higher education isn't limited to recruitment. It also has applications when incorporated into the curricula. In fact, according to a report from Gartner Research, 60 percent of higher ed institutions in the US will be using VR to put students in immersive situations by the year 2021. The report's co-author Marty Resnick touts VR for its "ability to create a learning environment in which students can obtain authentic, but low-stakes, hands-on experience."
A recent U.S. News & World Report article details how business schools like MIT's Sloan School of Management are using VR role-playing games to enhance student learning and engagement. Professor of management and director of the MIT Sloan Sustainability Initiative and the MIT System Dynamics group says the simulation "teaches our business students skills such as improvising, negotiating and public speaking....It reinforces how their decisions can have consequences that last for decades."
And while MIT's exercise pertains to climate control negotiations, VR can be used by business schools in many different ways, including everything from "virtual escape rooms that teach leadership and collaboration to customized programs that can change interiors of retail environments as part of marketing exercises," says U.S. News & World Report.
3. Real-time video classrooms
Online business schools promise to get even more accessible with the introduction of real-time video classroom formats. Last week, Drury University announced that not only would all 30 credit hours of its MBA program be available online, but that through synchronous video conferencing technology, students and professors will actually be able to "meet" for class.
Asserts Drury MBA program director Robin Soster of the development, "Professors will be able to see your face and know whether or not you understand the material, just like in the classroom."
Given the many advantages of face-to-face interactivity, widespread adoption by business schools is a win-win. "Our faculty are excited because this is going to allow them to do what they do best as teachers, and it's going to be excellent for student outcomes," Soster continues.
4. Robot teachers
Robots are rising, and rapid advancements in artificial intelligence and automation are expected to have a major impact in higher education. Proposes the World Economic Forum, "For academics, this rise in artificial intelligence, robotics and intelligent tutoring systems, may well mean that having the required experience and teaching skills are no longer enough. And the already apparent lack of digital skills among some academics may make it easier for universities to look to robots as an alternative."
Specifically, AI-enabled robots have the potential to improve teaching across several measures, including individualized learning, more objective and timely grading, and the ability to determine areas of improvement in degree programs.
5. Virtual technology
As the world becomes increasingly globalized, business schools are looking for more ways to teach graduates the skills they'll need to survive and thrive in the borderless business landscape. Technologies like Skype and WhatsApp make it easier than ever for business students from all over the world to work collaboratively on projects.
Take the Global Virtual Teams initiative, for example. This simulation tasked a diverse group of students with scheduling meetings, communicating, and meeting deadlines -- all while taking into account cultural differences and lack of face-to-face interaction.

Said Yale student and Global Virtual Teams participant Elliott Moreno, "We had people on our team from Mexico and Europe; others had students from Africa and Asia on their teams. It really quickly got interesting because suddenly, there are cultural barriers to work through and time differences to take into account. These are things you don't think about when everyone is in the same location. They come to light very quickly when you're working with a global virtual team."
The takeaways from the Global Virtual Teams experience are both relevant and lasting. "It's very well-aligned with the real world. I learned a lot that won't just help me the rest of the year, it will give me an edge once I leave Yale and start my actual career," added Moreno.
6. 5G
As the fifth generation of wireless technology, 5G offers many advantages, including more powerful networks, faster downloads, and dramatically accelerated transfer of information. These have obvious benefits when it comes to classroom learning.
"What 5G will mean for the education space is still an an area of exploration. To provide a few imaginative suggestions, a 5G-enabled classroom could include: A holographic teacher who can beam in to lead discussions on specialized topics; seamless virtual reality experiences that can help students with diverse learning needs better engage; or connected devices that could help close gaps in education for international students," suggests EdSurge.
One last thing to keep in mind about the relationship between business schools and technology? Just as the best businesses include innovation among their strategic priorities, so must forward-thinking business schools do the same. Viewed through this lens, business schools that position themselves as pioneers when it comes to technology adoption are also positioning their graduates for a smooth and successful transition from the classroom to the boardroom.