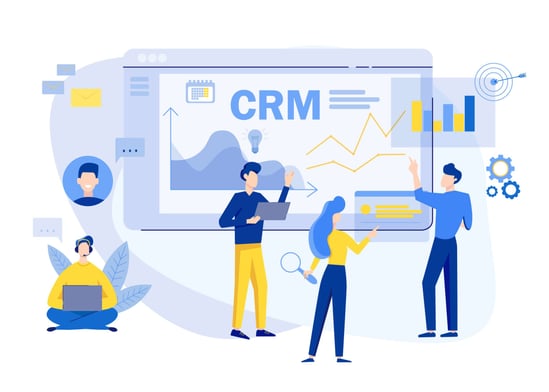 Many higher education institutions have transitioned from legacy IT systems to Customer Relationship Management (CRM) systems, to improve and streamline communications with students and other community members.
Here's a closer look at CRMs for higher education, their benefits, and what you should be looking for when selecting the best CRM for your university.
CRMs and Higher Education
CRMs are a type of software that stores and organizes data. The result is a comprehensive, unified record of contact information, activities, and interactions for an individual. Organizations use these records to identify and manage relationships with their constituents across a variety of segments. These areas include sales, marketing, customer service, and digital commerce.
CRMs aren't just a technology; they're also powerful tools for organizations looking to boost engagement while streamlining operations. IT research and advisory agency Gartner defines a CRM as "a business strategy that optimizes revenue and profitability while promoting customer satisfaction and loyalty."
CRMs have tremendous potential in the higher education sector. Today's students, families, alumni, donors, and other stakeholders have high expectations for engagement. They also prize transparency and communication above all else. In helping HigherEd institutions maintain and track stakeholder information and interactions across multiple platforms, CRMs offer an efficient way to build and nurture relationships throughout every stage while simultaneously simplifying the workflow.
CRMs are helpful in many ways in the higher education sector, including managing inquiries, promoting events, and nurturing communications. Streamlining the admissions and application process, monitoring payments, reporting, and analytics, and integration with other key platforms, such as social media and accounting, are all tasks CRMs can help manage and simplify.
The Benefits of CRMs for Higher Ed Institutions
CRMs offer many advantages for HEIs and their constituents, including the following:
More streamlined operations:
CRMs consolidate contact details and communication history in one centralized, easily accessible place. This streamlines university communication efforts while reducing administrative and operational tasks. Universities are freed up to channel their efforts into more targeted and meaningful communications.
For example, CRMs can generate automated email marketing campaigns that can be scheduled for precise stages of the admissions process and segmented by factors like areas of interest, or levels of study. As a result, you can look forward to all of the value of personalized interactions with a click and greater engagement with less effort.
Quicker and easier reporting:
Generating reports has traditionally been an arduous task. Now, many types of reports can be generated instantaneously, which facilitates easier and more informed decision-making.
Consistent and candidate-focused communication:
Timely and relevant communication is critical to stay front-of-mind while also keeping potential leads engaged.
With a CRM, what you send is sure to be the content the recipient is looking for. This level of personalization builds trust and engagement. Access to data can help your team strategically nurture each constituent's journey.
Whether you're looking to refine your recruitment processes or determine which marketing campaigns are working and which are falling short, CRMs deliver invaluable insights. From improving enrollment numbers by targeting candidates at the right time to keeping alumni engaged, the payoffs are profound.
Choosing the Best CRM System
All CRM systems aren't created equal. Each option has its advantages, as well as unique considerations. Now that we've made a strong case for CRMs for HEI, it begs the question: which CRM is right for your university? You may also wonder whether it's better to build an in-house system or to purchase a SaaS product from a software provider. Here's a closer look at some things to choose in mind when moving forward with a CRM system.
For universities that have the resources, building a CRM means complete customization. However, it's a complex process that will change with technology, scope, and scale. Therefore, pre-built CRMs, which also have significant customizability, may make more sense for more HEIs. Many of these are modularized, which allows universities to select the features they need while opting out of those they don't. The result is a highly fitted system for the unique needs and preferences of an organization.
Furthermore, some CRMs are designed specifically for HEIs. Keystone's SmartHub software is one of the leading CRMs when it comes to higher education and is built with universities, colleges and students in mind. SmartHub is used by thousands of universities and colleges all over the world.
To find the best CRM for your HEI, it's important to understand what you need the system to do beyond technological capabilities. Once you've narrowed down your list to a few potential CRMs with the features you're looking for, schedule demos with your top picks. This can help you get a better sense of which products will work better for you and why. The more CRMs you see at this stage, the richer your understanding of CRMs and their potential functionality will be.
As you work through the process of choosing a CRM, additional questions to ask include the following:
How long will the implementation process take, and what/whom does it involve?
Is this system customizable and adaptable?
What is involved in the customization process, how long does it take, and what does it cost?
Are new features added frequently?
Will the system be able to scale to your evolving strategic and operational needs?
Perhaps Gartner put it best in declaring personalization to be the "new frontier to student recruiting." CRMs open new doors to personalization communication, along with a host of other advantages. As more universities shift to CRMs, the question is no longer whether a CRM is right for you but which will best help optimize your admissions and enrollment efforts toward the most beneficial outcomes.