Instagram has switched its attention to reels, and universities are using the short videos to engage with their current student body as well as student prospects.
While it seems there are new platforms to learn all of the time, this one is here to stay. Essentially, Instagram Reels enables users to simply create short, engaging 15-second clips set to music. The videos can be shared to the followers on your Feed and, with a public account, they can be made available to new people through a space on the Explore page.
Unlike TikTok, which uses an entirely different application altogether, Reels can be accessed inside the current Instagram app.
The basics: how to get started with reels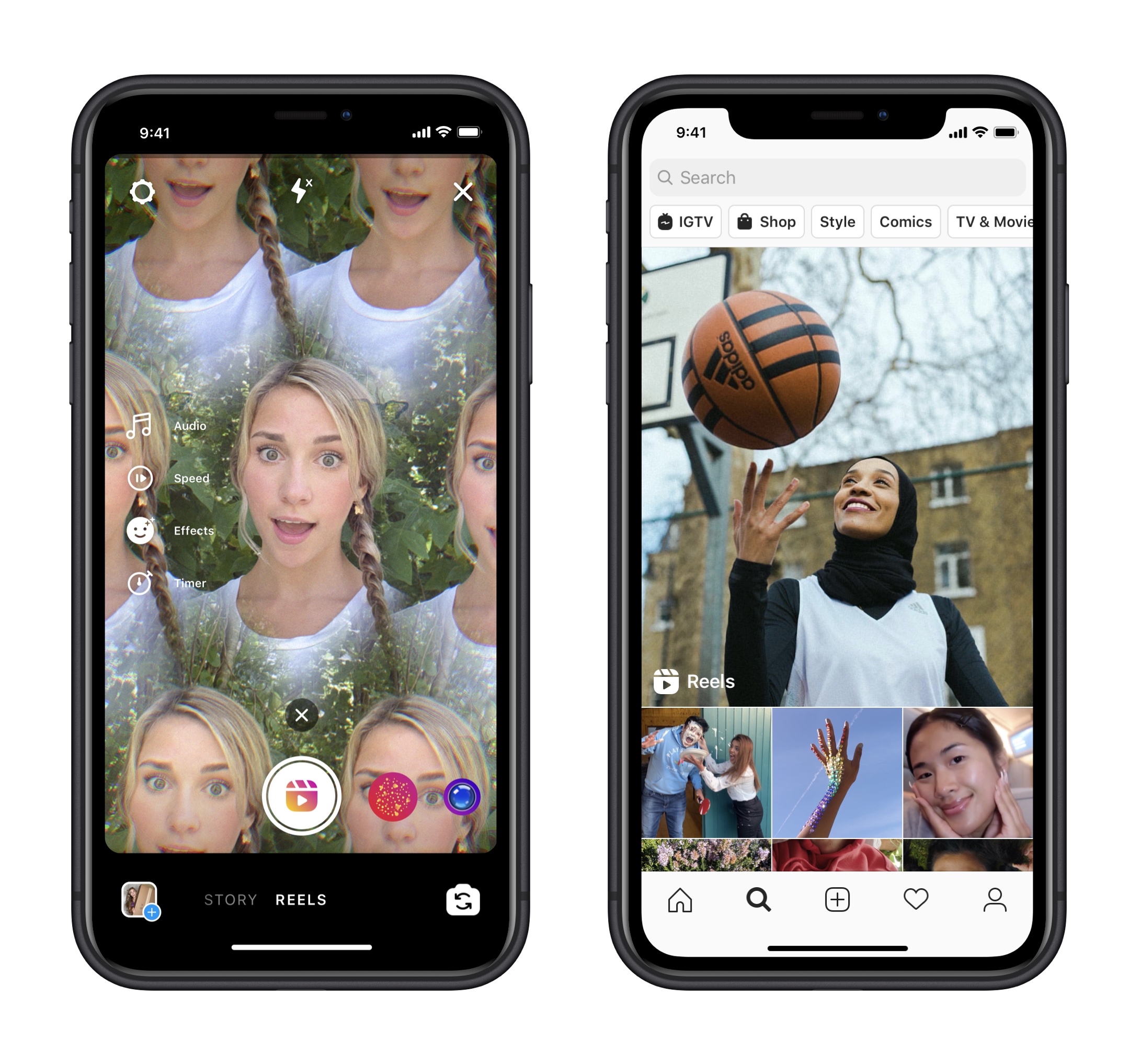 Step 1: Scroll to the REELS button at the bottom of your Instagram camera screen.
Step 2: Use the provided tools to create your recording.
Audio: The Instagram music library contains songs that you can choose as the background to your reel. You can also use your own original audio by simply recording a reel with it. When you share a reel with original audio, the audio will be attributed to your username. If you have a public account, people can create reels with your audio by selecting "Use Audio" from your reel. This helps you gain exposure to the audiences of the people who use your audio.

AR Effects: Choose one of the many effects in the effect gallery. These effects have been created by Instagram and individual creators all over the world. You can create multiple shots with different effects.

Timer and Countdown: If you need a hands free option, you can simply set the timer to record your clips for you. The timer will countdown from three and you will be able to record for the amount of time you selected.

Speed: Adjust the speed by slowing down or speeding up any part of your video or audio. This can help you stay on beat or create slow-motion videos that stand out from the rest.

Align: Create seamless transitions for shots that include outfit changes or adding new people to your reel by lining up objects from your previous clip before recording the next one.
Step 3: Record your reel by tapping and holding the "record" button. If you choose the timer option, a countdown will begin before recording. You will be able to record for the allocated time that you have chosen.
Step 4: Edit your reel by tapping the clip. You can trim, delete or simply watch the previous recorded clip.
Step 5: When you are happy with the recording, you have the option of adding text, stickers or drawings to your video.
Step 6: Once you are finished editing your clip, you can tap the "next" button to access the share page. Create a cover for your video, write a caption, and hit "publish"! If you do not want to share your clip right away, you can save it as a draft.
How to use Instagram Reels for student outreach
1.Repost your TikTok videos on reels
If you already have a TikTok account with content on it, don't let it go to waste. Share your TikTok videos to Instagram reels to get your video in front of a new audience.
2. Use the right hashtags.
Just like hashtags are important in Instagram posts, they are also key to getting your reels seen by the right people. If your college has a dedicated hashtag for student content, make sure you tag it in your reels.
3. Share campus tours
Showcase your campus to the country (and the world!) by creating a quick 15-second video highlighting the best parts of your college. You could even create a series covering different departments and areas.
4. Highlight student stories.
There is no better way to showcase the benefits of your college than by telling real stories. Reach out to past graduates and current students and ask them if they would like to share their stories. You could ask them to film snippets of their job with audio explaining their journey from college to career. You could ask current students to share their on-campus or study-from-home experiences in the same kind of style.
Tips to keep in mind
Where TikTok's primary users are teenagers and young people, Instagram has a wider reach. As Instagram Reels uses the existing Instagram platform, the videos are able to be seen by all existing demographics, including older adults. This may prove more beneficial than TikTok for reaching mature aged students.
As Instagram Reels are new, they are relatively untapped in the higher education space. As is usually the case with anything new that Instagram launches, early adopters gain more visibility than others. If you are thinking about adding Instagram Reels to your marketing suite, now is the time to get creative and start recording!
WATCH ON DEMAND WEBINAR: