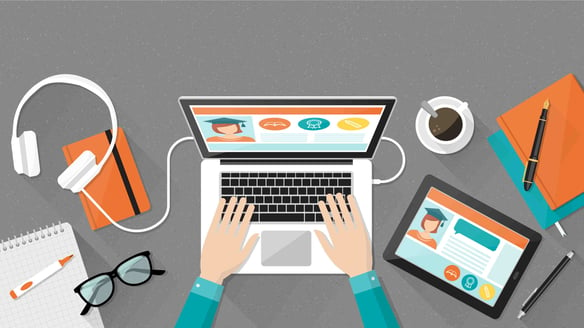 This year, for the first time in higher education history, institutions across the globe were forced to make a sudden and unexpected switch to virtual learning due to COVID-19. In many parts of the world, the switch is still ongoing as a new academic year begins. So how did it go and what insights can help educators still teaching online?
The annual CHLOE (Changing Landscape of Online Education) survey recently chronicled leadership reflections on the pandemic-induced remote learning pivot. The top targets for improvement include recommendations such as increased faculty-student interaction, standardization on common technology, faculty training and quality standards. After reading the CHLOE 5 report, it's clear there are pros and cons to the remote learning format, especially for students seeking the traditional, in-class format.
Struggles in time management
According to a recent SurveyMonkey poll, top concerns associated with this shift from in-person classes to distance learning are:
1. Keeping up with coursework (45%)
2. Losing contact with professors/instructors (33%)
3. Being physically isolated from classmates (31%)
4. Juggling other priorities (e.g. child care, family care (30%).
Both first-year freshmen and experienced graduate students learn time management skills as they progress through their degree programs.
As creatures of habit, college students spend several months developing these valuable life skills in a physical setting and the rapid shift to online learning was sure to have an impact. Focuses shifted as students were forced back home with parents, children, siblings, and roommates off-campus.
How to improve next semester: Normalize time management training by offer weekly sessions hosted by upperclassmen, teaching assistants, and career services representatives.
Lack of networking opportunities
Many college students look at the on-campus experience for education in and out of the classroom. Memories are made through clubs, organizations, campus events, and athletic competitions; the in-class learning only accounts for half of the educational experience. Once students were forced to return home, they missed that interaction with classmates, staff, and faculty through extracurricular life.
For certain majors, virtual delivery impacted the ability to learn inside the labs and off-site classrooms. For example, many STEM-specific degrees require at least 33% of classes to be hands-on, in-class learning. For education majors, student-observation hours are vital to earning a master's or bachelor's degree. Remote learning in Spring 2020 has caused significant shifts in what students can learn and more importantly how they can learn it.
How to improve next semester: Incorporate the career services department and urge students to continue building their resume despite social distancing regulations. Offer free online professional certification training for their LinkedIn resume through sites like Coursera and LinkedIn Learning.
Perception of loss in quality of teaching
According to a survey conducted by OneClass, 75% of college students cited being unhappy with eLearning during COVID-19. Students, and their families, are willing to pay more for on-campus classes because they are more engaging, authentic, and interactive. If they wanted an online degree, they would prefer to pay online tuition, which wasn't the case for most institutions across the globe.
Not only did learners suffer, but the sudden change in format also challenged educators used to teaching in a class environment. According to the CHLOE 5 report, the most common challenge to executing the pivot to remote teaching was the low level of preparedness of campus-based faculty at 75%. With such a rapid change of circumstances due to COVID-19, many professors had to switch to an entirely different way of teaching without technical training or preparation. Not only did they need to learn how to use new software in a matter of weeks, but they also adapted to new schedules and a completely new environment. With the lack of facilities, equipment, and support some students and professors struggled more than others.
How to improve next semester: Create a tech-savvy support team that can help professors struggling with the online format. These employees can be current students that have IT experience or professionals that previously worked exclusively with the campus Wi-Fi infrastructure and have more free time during quarantine.
Workplace adaptability
Higher education was just one of many industries to be impacted by COVID-19 this past spring. From airports and agriculture to TV production and waste management, most industries worldwide were devastated by the quarantine and social distancing rules. College students were not the only group forced to spend every waking hour at home and this will benefit last year's seniors as they begin their entry-level positions.
Internships are a big part of building a resume, and for thousands of interns, remote work and remote learning became very real during COVID-19. Their ability to shift gears and work from home will add a talking point to any job interview.
How to improve next semester: Find employers that are offering virtual internships. Students can contact career services to help them get a job interview with online employers and that might even lead to an entry-level position once everything is back to normal.
Virtual conference skills
It's not a secret Generation Z is the most technologically savvy generation ever as born digital natives. They learn and work differently from professionals who came before them. When it comes to virtual conferencing skills, they are now graduating more prepared than ever. With 100% of class time spent screen-to-screen and not face-to-face, they walked away from Spring 2020 Zoom and GoToMeeting ready.
The forced at-home order also turned them into self-starters like never before. First-year freshmen tend to struggle most when it comes to meeting deadlines and building time management skills, but remote learning adds another level as there is no longer library space, study groups, or on-campus academic services to assist. While this could be categorized as a "con" to online learning, it can also be a perk for students looking to start their careers remotely.
How to improve next semester: Focus on virtual employment during your next career services information session. Many students may not know about the opportunities to work remotely, or partially from home, meanwhile, three out of ten college graduates worked some of the time from home, even before the pandemic!
Renewed family time
For better or worse, remote learning brought college students back together with family. From working mothers completing graduate school to siblings attending different colleges at the same time, remote learning caused decreased speeds on the home Wi-Fi network and increased family interaction for the first time in a long time.
COVID-19 has been an incredibly challenging time for billions of people, but it won't last forever, just like time spent with family. Not all memories of campus shutdowns have to be nightmarish, in fact, there is a silver lining for those that got more family time out of the experience. For parents juggling work, children, and a degree program, all from the "comfort" of home, we salute you!
Here we are at the start of the Fall 2020 semester, and already dozens of institutions around the world are sending students home for more remote learning. "We're all in this together" takes on new meaning as colleges and universities look for the most effective ways to get students and faculty back in the classrooms. Only time will tell how long our "new normal" will impact higher education, but for the time being, stay safe, stay positive, and remember to do your homework, in-class or online.