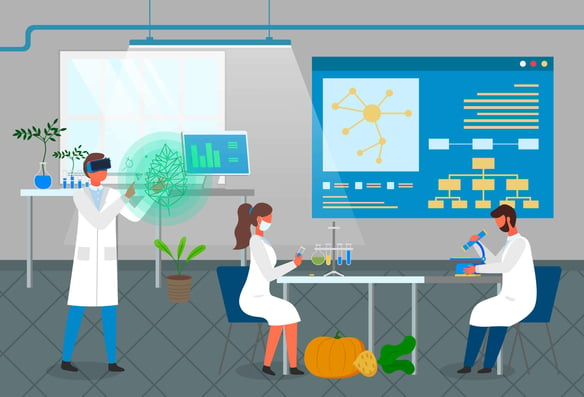 At the beginning of 2020, many universities around the world were planning to deliver only a select portion of the courses online. However when COVID-19 hit, this changed everything about the way content was delivered. For the past eight months, universities and colleges have been navigating the world of online learning, while also wondering how these unusual semesters will shape the future of teaching.
One area that has required significant innovation are labs and workshops, particularly in course programs requiring hands-on experience for students, such as those within STEM. In this article, we will look at some of the ways universities are successfully organizing workshops and labs in a virtual learning environment.
BONUS! Read to the very end to watch an interview we did with a student doing labs online during the pandemic!
Assisting remote students with virtual computer labs
The launch of virtual computer labs was one of the first efforts taken to provide students with access to necessary technical services, and support as they complete their study from home. Rutgers, the State University of New Jersey, offered virtual access to its computer lab software after the COVID-19 pandemic unexpectedly dispersed tens of thousands of its students across the globe. With many students left without access to important academic software, "virtual computer labs" made it possible for remote students to successfully complete their work. The IT program included lending laptops, webcams, and other hardware to students who needed them, as well as providing connectivity to fast internet connectivity. The university quickly created a curbside printing delivery system for those who needed to pick up printouts.
Simulating medical procedures with virtual reality
While studying textbooks and watching online lectures are a key part of the learning process for medical students, there is no substitute for hands-on experience. However, with the COVID-19 pandemic, many medical students have been unable to have this hands-on practice to gain the important skills they need. Advances in virtual reality technology are creating helpful new services to allow students to practice and improve their abilities in lifelike scenarios while at home.
Computer software to help train doctors has been around for decades. However with the introduction of VR, it allows students to feel like they are conducting a procedure in real time. By wearing goggles and a headset connected to a computer program while holding a controller in each hand, a student is able to "perform" a medical procedure on a digital patient. The program allows students to make motions and important decisions in a simulation that feels like real time and real life in a virtual setting. While students can undertake this kind of learning on their own, other students can join in and watch their colleague's process by wearing goggles too.
Video game-like lab experiments for science students
During this period of remote learning, the California State University has integrated a high-tech solution to replace hands-on experiments for science students. The program is called Labster, and it currently provides over 1,000 universities around the world with access to virtual science labs. With regular labs closed in California, around 500 biology students at CSU are doing virtual lab experiments through Labster. Other CSU campuses are using it for chemistry and physics as well.
Labster's simulation catalogue includes over 150 labs on topics like Introduction to Biology, Microbiology, General Chemistry, Physiology, and so much more. Labster uses gamification and storytelling approaches to engage students in course materials. The virtual nature of the software allows students to learn at their own pace and in their own time, so they can improve their skill levels even when they are not in a physical environment. Labster enlists scientists and video game designers to make the labs as realistic and engaging as possible. While it is not a complete substitute for in-person lab work, it fills a great need at the moment, allowing students to continue to improve where otherwise their learning would have to be put on pause.
Personalized student interaction through office hours and break-out rooms
Beyond virtual laboratories and workshops, lecturers are finding out what works best when it comes to engaging students. Educators from Brown University have found virtual office hours a successful way to provide students with a flexible and non-intimidating way to ask questions. Brown educators are also considering how they can continue to use breakout rooms, even in a post-COVID society, as they have found they lead to more student-to-student interaction than the traditional "talk to your neighbour" approach used in the classroom. The virtual format can also make it easier for universities to bring guest speakers into the classroom.
While the higher education landscape has been challenging to navigate this year, it also provides educators with the opportunity to innovate in incredible ways. Of course, the most valuable insights will come from the students themselves. Surveys and one-on-one conversations can help course creators discover what works best for their students so they can create a great learning experience in the future and as we head toward a new year.
Interested in hearing about a student perspective on digital learning during the pandemic? Keystone spoke to Maria Artamonova, a russian-norwegian student studying at King's College London in the UK about her expirience of doing neuroscience online this semester. Click the video below to hear her thoughts!