Using a students' native language in your international recruitment is a key factor in attracting the brightest students around the globe.
In the increasingly competitive landscape of international student recruitment, many factors contribute to the success of recruitment campaigns, and the language of communication may often be overlooked.
Most international recruitment takes place in English, but according to a 2020 survey by CSA Research, 76% of customers prefer to be addressed in their native language.
Speaking with prospective students in their native language can be a powerful distinction that will make all the difference in their final decision. Continue reading to learn more about the benefits of assembling a multilingual recruitment team.
International recruitment landscape
In recent years, more students have sought education abroad than ever before. According to data from the Institute of International Education, more than six million international students studied outside their home countries in 2022 – more than twice the number from 2007. China and India lead the rankings as the countries of origin of most international students, with South Korea, France, and Nigeria also sending large numbers of students to the top destinations.
With increased international student mobility, the competition among universities and institutions worldwide also grows. The allure of attracting talented and diverse students has made international student recruitment a priority for higher education institutions. As in any competitive market, the pressure to break through the noise and successfully recruit students from different parts of the world grows yearly.
Find out more about improving the student experience in our October webinar:
Because English is considered a global language and prospective students typically have an advanced grasp of the language, international recruiters typically default to English throughout the recruitment process. Communicating with international students in their native language isn't a common practice, but it can build a stronger link between them and the institution and help your university stand out in the global recruitment landscape.
Here are some benefits of speaking with your prospective students in their native language:
Clear communication
Keeping open and transparent communication is the first step in building a solid relationship with prospective students and their families. For international students who may not have previous experience studying abroad and are unfamiliar with the different application and enrollment processes, communicating with the university staff in their native language can make it easier to discuss any doubts regarding requirements and documentation.
The benefit of clear communication doesn't extend only to the students: when universities communicate in a student's native language, it becomes easier to understand their unique backgrounds, needs, preferences, and goals. This thorough understanding is crucial for optimizing recruitment strategies and support services.
In short, communication in students' native languages fosters trust and rapport. It sends a powerful message that the institution values the student, respects their background, and is genuinely interested in their success.
Building trust
When recruiting international students, especially at the undergraduate level, their families often play a big part in their final decision. Much of the documentation and finance related to a student's application will be up to their parents, who may not speak or even understand English.
The family might feel uncomfortable leaving the whole process in the hands of their child, but if they have trouble communicating with the university staff themselves, they may not have a choice.
Alternatively, if at least one person on the recruitment team speaks their native language and can effectively communicate with the parents, answering their questions and bridging the gap between the family and the departments involved, the student is much more likely to count on their family's full support in enrolling.
Cultural connection
Each culture has nuances that only someone who has visited or lived in a particular country can thoroughly comprehend. A staff member who has been to China will have the sensitivity necessary to navigate colloquialisms and cultural preferences when connecting with Chinese students and their families.
Understanding students' culture also means understanding their preferred methods of communication. In China, for example, the most popular messaging app is WeChat, which currently boasts nearly one billion active users. In Latin America – as in many other countries – the most popular messaging app is WhatsApp.
Meet students at their preferred platform and communicate with them in a way that feels familiar, and they will feel more supported by your recruiting staff.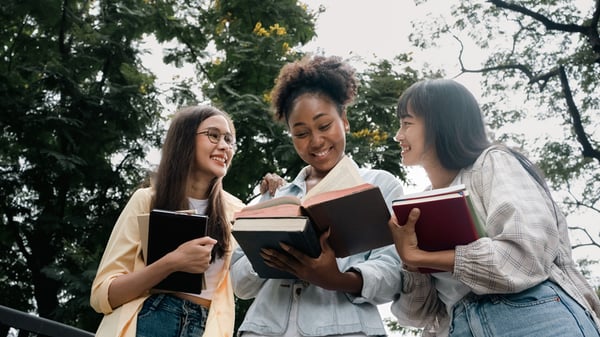 Strategies to implement
Having recruitment staff proficient in every language spoken by your target markets is the ideal scenario, but not every university has the resources to make it a reality. In the meantime, several achievable strategies can strengthen your recruitment team.
Firstly, offer cultural sensitivity training for your existing staff. Current staff members can be trained to become more aware of the differences in communication styles and expectations of students from different backgrounds. This ensures that interactions are respectful and inclusive.
Secondly, translate your website pages. Most browsers allow users to translate any page instantly, but automatic translation might not always translate information correctly – especially field-specific academic terms. Many institutions also use chatbots and AI-powered tools to communicate in multiple languages.
Finally, tailor your content to your different audiences by releasing marketing materials and resources in multiple languages. Putting out content in your prospective students' native languages not only builds a closer relationship but also demonstrates a commitment to diversity.
But always ensure content is created or revised by someone with fluency in the language and cultural awareness: linguistic or cultural errors may create the opposite effect of dedication to diversity.
Gain an edge over competitors
When students can easily access information and communicate with admissions and support staff in their native language, they develop a stronger bond with the university – a bond that can be further deepened as they receive outstanding support from student services. This increased satisfaction leads to higher conversion rates and a boost in enrollment.
As a result, universities that embrace native language communication gain a competitive edge. They stand out as institutions that go the extra mile to connect with prospective students, understand their unique needs, and support them beyond the academic challenges throughout their studies.
Through the strategies mentioned here, any university can express its commitment to inclusivity and diversity, welcoming students from every background and providing them with the best possible service.