Networking is a vital skill for young adults looking to get the most out of life. College graduates might find success by rolling up their sleeves and doing everything independently, but community support and camaraderie l makes most tasks significantly more manageable. From dating apps and social media, to ride-sharing and food delivery, technological advancements have made virtual networking much easier over the years. Now, with 5G technology being installed worldwide, things are only getting better and faster than ever.
How can you help your socially-distanced students network during these unusual times?
The answer might be easier than you think as Generation Z are expert adapters. While online learning and social distancing have not been ideal for most traditional learners, today's students know how to properly use technology even more than their predecessors.
Online learning has its benefits, but one of the main advantages of on-campus learning is the sense of community. In only a few months, the coronavirus pandemic has completely changed the way universities operate. Our recent blog provides examples of larger institutions that have shifted their focus to online learning, and highlights the importance of staying connected as students live and study from home.
Get social
Social media usage has substantially grown over the past 15 years, and the global pandemic has increased the audience and activity. Most colleges and universities have at least some social media presence on Facebook, Instagram, Twitter, or TikTok. However, marketing and admissions teams admit it's difficult to keep content up to date during the busiest seasons of the year in higher education; fall recruitment season and spring yield season. With less admissions travel and more internal strategy sessions, now might be the best time to employ more social media connectivity between the administration and active users.
Set up a social media content calendar and schedule networking events with your current users. Make sure to blast a few invite emails, and consider sending a postcard home urging even your non-active social media users to join the virtual event. One of the major challenges of virtual events is getting everyone together at the same time, but by scheduling multiple small events rather than a few big ones, you will increase the chances of students showing up and participating.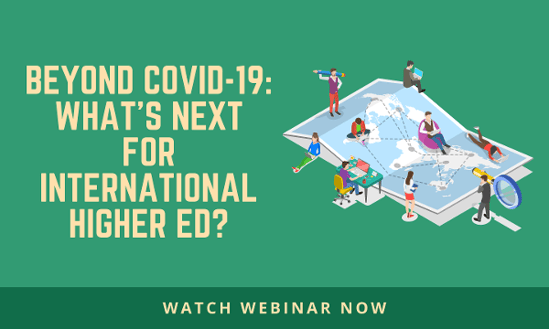 Call on alumni
While current students are heavily impacted by social distancing orders, chances are many of your recent graduates have also taken on the burden of working and communicating from home. Ask members of your alumni association to guest speak during virtual events. By explaining the struggles of working from home and conducting business behind a laptop or desktop screen, it can serve as a gentle reminder that "we're all in this together." Authenticity matters to Generation Z, and by sharing real-world alumni stories, you can help your entire population network and stay grounded during these trying times.
Ask students what they want
Survey taking might not be the most popular task among the college-aged population, but it can be a critical tool for administrators and campus event planners. Prove to your students their opinions matter, and ask challenging questions that may only get a response if they remain anonymous. When setting up the survey, write a short introductory statement reminding students that their identities are not required, but their opinions are.
Some topics to consider could include, studying from home, interning from home, networking from home, and ideas to improve the current format. It may be challenging to get real answers from students via email, phone, or social media, but add in the anonymity factor and watch the ideas come to life.
Need help developing a survey? Here's a list of WordSteam's "9 Best Survey Tools."
Utilize the Career Services Department
First-year students craving in-person social interaction have been at a loss over the past year, but juniors and seniors seeking internships have also been disadvantaged. While many companies have digitized student internships during COVID-19, the process of obtaining an internship has gotten even more competitive.
Your Career Services Department has been instrumental in helping students obtain internships for generations. Now more than ever, they need to step up and lend a hand. Ask them to schedule virtual career fairs, as well as invite professionals and mentors to join the unique event.
Another idea is to set up major-specific professional presentations, once again increasing the chances students will show up and participate. The number one reason people go to college is to find a fulfilling career after earning a degree. Without professional networking opportunities, you may see a number of college seniors opting out of their final year until the pandemic is officially over.
Push for every college senior in your community to set up a LinkedIn profile. It's quick, easy, and free. LinkedIn has defined virtual professional networking for over a decade, and there is no reason your career-seeking population can't join today.
Bring back the handwritten letter
Want to surprise an employer, professor, friend, or family member in 2020? Send a handwritten note and put it in the mail. With so much talk about virtual networking and screen-to-screen communication, we don't want to forget the lost medium of tangible technology; pen and paper. This simple trick could be just what somebody in your life needs to brighten up their day, or what will make you stand out after a job interview.
There will never be a replacement for in-person student interaction, but thanks to our globally-connected virtual community, networking possibilities in 2020 are endless. Connect your students to careers. Provide an authentic experience during difficult times. Emerge stronger than ever by coupling your talented administration on campus with the virtual platforms of today.