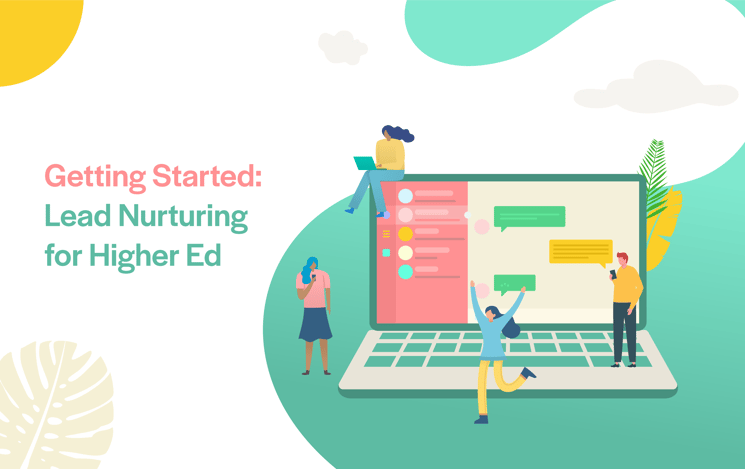 Modern student recruitment can be challenging, especially if your role involves handling hundreds or thousands of leads. When you receive a new enquiry from a potential student, how exactly do you proceed — with a dedicated communication plan to guide you, or perhaps more an ad-hoc approach?
For many colleges and universities, it can be difficult to give personalized and dedicated attention to each potential student. In order to be more efficient, many schools are now developing lead nurturing strategies and dedicated communications plans to both boost their recruitment and optimize their communications. But what does this actually entail?
Creating a Student Journey - Lead Nurturing for Higher Education
Lead nurturing focuses on engaging prospects by providing the information and dialogue they need at each stage of the buying (or recruitment) process to position your program or university as the "best choice." It is focused on careful planning of communications, and subsequent implementation over time through stages. Many lead nurturing strategies incorporate communications across a variety of channels in order to help nurture the lead towards a desired goal, such as application in the case of a university or college.
Figures show that companies with successful lead nurturing strategies can generate as much as 50 percent more sales-ready leads than without a strategy. Imagine the potential impact of lead nurturing on student recruitment. Going to university can be a large investment for students and their families, so choosing the right program and institution is a monumental decision. Today's students have access to endless information at their fingertips, and carefully consider their options before making decisions, often conducting their research for an extended period. Having a dedicated plan to cover common scenarios that occur during the student's journey from enquiry to applicant can help you avoid the kind of mistakes that cause student leads to go cold, such as using the same outreach tactic on all potential students regardless of what stage they are at in the enrollment funnel.
Figures show that companies with successful lead nurturing strategies can generate as much as 50 percent more sales-ready leads than without a strategy.
By delivering a carefully planned out and tailored communications strategy, you can not only develop stronger relationships with interested students, but you gain better understanding of their needs at different stages of the recruitment journey.
So how exactly do you go about forming a strategy to meet the needs of your specific program, faculty or university? To help you get started, here are some tips to help you conceptualize and develop your own tailored, lead nurturing strategy.
1. Analyze and segment your audience.
Your potential students are unique and bound to have differing motivations and priorities when it comes to choosing higher education. Whether cost, reputation/quality, value, graduate career outcomes or even general "fit," there are so many factors potentially driving their interest. The key to analyzing them correctly is identifying the commonalities and planning your strategy to directly hit the mark.
Take the first steps to creating your lead nurturing strategy by identifying these factors in order to create groupings or sets based upon different stages of the student journey. The more accurate and specific these groupings are, the more personalized and relevant your messages will be. Lead nurturing emails get 4-10 times the response rate compared to standalone email blasts. Segmenting your audience will also help you identify topics that best represent their interests. The level of segmentation should be determined based upon the specific needs of your program or faculty, and balanced against the availability of resources to carry out the desired strategy— you plan and build it the way you believe will serve your students best!
Lead nurturing emails get 4-10 times the response rate compared to standalone email blasts.
2. Prioritize personalization.
When outlining your strategy, it can be useful to brainstorm ways to incorporate personalization through the various communications you will deliver. For example, emails with personalized subject lines are 26% more likely to be opened than those without. Authenticity is one of the most important things to consumers, and definitely to students seeking their future school. A formal, generic message is not only the opposite of authentic, but is also a direct impediment to fostering trust. The more conversational, personal and detailed your messages, the better.
Many educators believe that adding personalization is a costly exercise. However, advances in marketing automation have made it possible for universities to add personalization when communicating with large volumes of students without going over budget. Whether through use of automatic personalized emails, SMS services or even chatbots, there are a number of solutions available to assist. While in the past these tasks may have required a lot of work, marketing automation has streamlined the process and simplified communications, making the job of university marketers a whole lot easier!
Emails with personalized subject lines are 26% more likely to be opened than those without.
3. Communicate across platforms and marketing channels.
Multi-channel communication is one of the most effective ways to deliver your lead nurturing strategy, leading to a 451% increase in qualified leads than with traditional channels such as email or calls. Enabling students to have interactions with your university across multiple platforms will give them a much more enriched experience, and help to increase awareness of your brand. Today's students have the internet at their fingerprints and are likely to seek information from multiple sources. The more a student is exposed to your school during their research, the more familiar they are with your brand, and the better chance of your gaining another applicant when the time comes to apply. Seek new platforms that can allow you to reach more students, whether online through social media, in-person through events, in real-time through messaging and chat applications, and many more other channels available out there.
3. Tell your story.
Earlier recruitment focused on providing the right information to prospective students as they moved from interest towards application. Today, the focus centers on student engagement, with the aim to create unique experiences that "nurture" students towards application, whether as simple as personalizing emails or as advanced as curated "student for a day" events or virtual reality campus tours. From the communications perspective, it is important to think about finding new ways to inspire potential students to get excited about your offer. How can you transform your communications into storytelling? If you focus on the needs of the student and also aim to tell the unique "story" of your university or program, you can quickly begin the journey towards improving engagement.
4. Try lead scoring.
When dealing with large lead volumes, it can be difficult to know how to prioritize them. How can you quickly tell if one lead is very interested or maybe still in the early research stage? One method that can help you to effectively carry out your lead nurturing strategy in practice is "lead scoring" or the "process of assigning values, often in the form of numerical 'points,' to each lead you generate for the business. You can score your leads based on multiple attributes, including the professional information they've submitted to you and how they've engaged with your website and brand across the internet," explains HubSpot.
Scoring your leads can help you prioritize your leads, respond to them adequately, and accelerate their progress through the pipeline. Common factors addressed in lead scoring include demographic information, education profile, online engagement (i.e how many times they communicated or opened an email) and even desired start date for programmes. As a recruiter, this can automatically provide a clear overview of your student leads but also help identify specific groups, and streamline your communication. A simple yet highly effective lead management tool for universities.
5. Create gated content.
"Gated" or premium content, has the potential to turn anonymous website visitors into leads by asking them to fill out an online form in exchange for the information they're looking for. Gated content can yield invaluable insights into understanding where prospective students are in the process while simultaneously adding value on their journey. For example, by simply requesting a few contact details when a student downloads a brochure or information guide, you will have an opportunity to establish a direct connection to them, enabling you to communicate long after the download. You can also demonstrate a "service-minded approach," helping the student further on their journey with a simple "did you have any questions?" follow up email after the brochure has been downloaded.
6. Seek improvement.
The more intelligent data and metrics you gather from the different stages of communication delivered as part of your strategy, the more meaningful insights you'll derive through analysis. After a period of delivering a segmented communications or lead nurturing strategy, you will soon be able to quickly identify if there are specific stages at which your potential students may be converting better, or potentially dropping off. These differences can provide excellent insight as to where you can improve or enhance your current strategy. You might use this make changes to your emails, calls and messaging, maybe even experiment with A/B testing different versions of your communications, all based upon knowledge gained from lead nurturing.
7. Share in their excitement
When students apply to and get accepted, your work isn't done yet. Of course, students celebrate their acceptances -- why not get in on the action and show them that you're excited, too? Sending a one-to-one message of congratulations is another way to bring them closer to your university. Universities such as Queensland University of Technology in Australia have been creative in doing this, using live personalized billboards and direct mail to welcome students. In addition to congratulating them, you might also share personalized information about what's coming up next.
While lead generation is crucial to getting students in the enrollment funnel, lead nurturing is integral to keeping them there. Adopting a lead nurturing strategy can not just help you communicate with prospective students, but also empower them toward better engagement and conversion rates alike. If you haven't already, time to get started! And maybe even consider using technology in the form marketing automation to transform your strategy.