Technology advancements have been revolutionizing universities faster than ever in the past few years. As new generations of students, who have grown up in a digitalized world enter university, they expect schools to be ahead of the digital curve and correspond to their technological needs.
Here are five tech trends that can further transform higher education in 2023.
Chatbots
With the launch of ChatGPT in November 2022, Artificial Intelligence has once again become one of the main topics of conversation in the education industry. Although some worry about what changes ChatGPT might bring to the classroom, others push to embrace AI tools in a university setting.
Indeed, AI chatbots have been present at universities for years, engaging with prospective and current students who need all sorts of assistance from the school. With chatbots evolving so quickly and growing smarter, their responses become more personalized, as opposed to the generic, repetitive answers they were initially restricted to, thus allowing institutions to employ a tool with which students feel more connected.
In 2016, Georgia State University reduced summer melt by 22% by employing an AI-powered chatbot to answer incoming students' questions around the clock, keeping them engaged with the school and helping them overcome any obstacles to enrollment. Artificial Intelligence can further assist prospective students before they start their application, guiding them through every step and sending reminders to ensure they don't miss any deadlines.
Most universities can't afford to operate a 200-people call center 24/7 that can answer every student's needs. With the help of technology, school staff can focus on solving only the more specific problems that demand human action, while the AI chatbot takes care of any general inquiries that students may have.
Hybrid classrooms
The pandemic has shown that students crave flexibility, but most don't want their learning experience to be fully remote. A Barnes and Noble College study showed that 33% of students prefer classes to be entirely in-person, as opposed to only 18% who prefer them to be fully remote. For most respondents - 49% of surveyed students - hybrid classes are the optimal learning mode.
However, the ideal hybrid classroom can't be achieved by simply alternating between in-person and online classes. Universities must focus on the quality of the learning experience and develop a method that integrates remote students into a physical classroom and engages them with their classmates and the professor.
Besides allowing students to attend classes virtually or in person, the university must provide technical training and support for its faculty so every professor feels comfortable utilizing new technologies. The ultimate goal should be to make it easy for professors to come in, set everything up, and start teaching without setbacks.
Cloud computing
Few technologies have as much power to improve a university campus as cloud computing - that is, the delivery of computing services such as storage, servers, databases, analytics, and various software through an online "cloud." Investing in cloud computing is an excellent way of saving money while enhancing the performance, reliability, speed, and security of tech-related services used on campus.
Using a cloud-based system instead of a local infrastructure improves IT efficiency by sharing the maintenance between your local team and the service provider. It also offers flexibility when scaling your system, allowing you to expand or reduce your cloud-based servers according to your operational needs.
But, the IT staff aren't the only ones who benefit from a cloud system. Cloud computing supports students and faculty through its capability to store vast virtual libraries, support video content and virtual learning, and power research by making it easier to share and process the academic workload.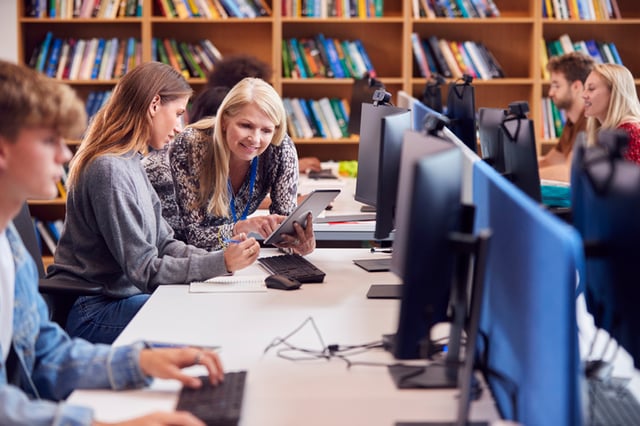 Upgraded network coverage
Most students carry and use two or more devices while on campus, all connected to the campus network. Faculty are also more dependent on a high-speed, quality connection: virtual meetings are now the default, and academia has fully embraced remote participation in events through videoconferencing.
Network coverage isn't contained indoors, either. Although classrooms, libraries, laboratories, and other indoor study spaces have already required internet connection for many years, students also need wireless coverage when occupying outdoor spaces on campus. As one of the numerous changes the pandemic has brought to our behavior, many students prefer the outdoors when studying, whether alone or with friends.
To handle such demand for high-speed connectivity everywhere, universities must constantly stay aware of the capabilities and limitations of their campus network and expand it according to the community's needs.
Smart Campus
A smart campus uses a combination of seamlessly integrated technologies to create a set of systems that help to connect the campus community to its infrastructure. With more devices being connected to the campus network every day, universities can build an infrastructure that leverages such high levels of connectivity to create a more dynamic and sustainable environment.
This integration can improve the campus experience by facilitating the easiest actions, like locating the closest parking spot, to complex solutions, like streamlining research and data analysis. It can make the campus more sustainable by using motion detectors to turn off lights in rooms that aren't being used.

It can also be used to improve campus security - for example, if a student finds a key card on the ground and uses it to try and enter different rooms, the security system can detect that the card is being misused and block it, ensuring no one would be able to use it to enter someone else's room.
The possibilities for creating a smart campus are endless, but universities can start working towards the campus of the future by articulating a robust network infrastructure, well-maintained network security, and the appropriate applications to enhance the overall educational experience.
These are only a few initiatives that will reshape the campus experience in the near future. Hearing from your university's community and working with experts to create an adequate strategy is indispensable. But, regardless of where technological advancements take us, the focus must always be to create a virtually secure campus and deliver the best possible quality education.