Studying abroad can be a daunting and overwhelming process, and prospective students will understandably have concerns about moving out of their home country.
As institutions, you can help alleviate those concerns by communicating the relevant information prospective students need to make the final decision to study abroad and enroll with your college.
During a survey of 20,000 prospective students interested in studying abroad, Keystone asked our audience, 'what is your top concern about studying abroad'.
Here is a list below and some ways to alleviate any concerns:
Tuition fees and living expenses
Cost is often a major concern for students when considering studying abroad. In fact, 81% of students surveyed said they were most concerned about tuition fees and living expenses.
Consider sending potential study abroad applicants information on scholarships and funding options you offer - even if they haven't requested it - to help make their enrollment decision easier.
Visa requirements and immigration
Visa requirements differ so drastically from country to country, and it can be difficult finding the most up-to-date information.
Students find case studies and testimonials from other students helpful when making their final enrollment decisions.
Use some of your current international cohort from across different nationalities to explain the visa process. You can share these short informative reels on Instagram and post them on the international recruitment section of your website.
You can go one step further and put students directly in touch with students who have just gone through the process so they can ask questions directly.
Finding housing and accommodation
It can be hard deciding on accommodation and an area to live in when you have never even visited the city or town before. Having a handy guide on university accommodation options and local estate agent websites to share with student leads will hopefully help secure their decision.
With student housing shortages in some of the most popular study abroad destinations, such as in the Netherlands and the UK, it is important to communicate early in the process what students need to do and the alternatives available if there aren't enough spots in their first-choice.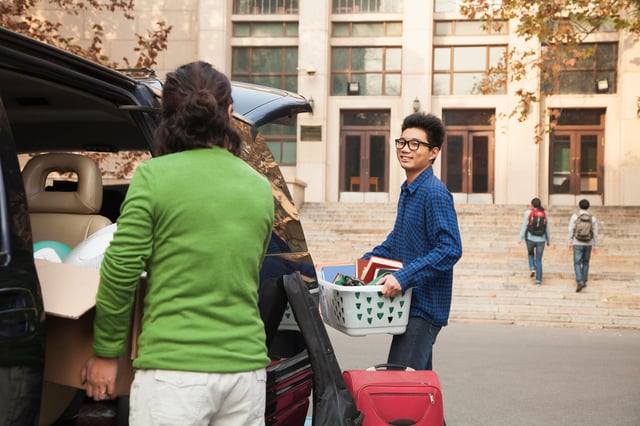 Job employability
Studying abroad is a big step – both emotionally and financially. Utilize your alumni network and showcase some of your institution's study-abroad success stories to reassure potential students that the risk is worth taking.
You should also highlight the partnerships your program or course has in the industry, and how your modules and content fill a skills gap in the industry.
Not speaking the local language
Unsurprisingly, one of the top concerns was language, with 21.2% saying it was a concern when choosing to study abroad. Reassure your student prospects by offering information in their local language, where possible, and introduce them to support services, clubs, forums, or organizations for international students where they can hopefully meet other students who are going through the same thing.
Even if students are going to study in English, they will be more likely to explore your program further if the initial information is in their local language.
A European Commission survey on user language preferences online found that '9 in 10 internet users in the EU, when given a choice of languages, always visited a website in their own language.'
The same should be taken into account when it comes to providing information to students online.
The decision to study abroad is a big one, and it's not surprising that students have a lot of concerns when it comes to moving away from home.
As an institution, you can help alleviate those concerns by addressing them and being one step ahead in the process.
Have the information students need readily available, and don't underestimate the importance of peer-to-peer engagement. Hearing first-hand the experiences from your current study-abroad students or recently graduated students could be what clinches your next enrollment.