Canada welcomed over 550,000 international students from 184 countries in 2022, recent data from Immigration, Refugees and Citizenship Canada (IRCC) showed.
The figure follows a steady increase in the number of study permits being issued yearly, with an all-time high of 807,750 international students with active study permits at the end of 2022.
While the USA has been the reigning champion of international education for decades, the country saw a 7% drop in international student enrollment between 2016 and 2020, before the COVID-19 pandemic started. During the same period, international student enrollment in Canada increased by 52%, painting a sharp picture of the change in preference of students planning to study abroad.
Here is a closer look at why more international students are choosing Canada as their destination.
Simplified immigration process
Many international students choose to study abroad as a way of immigrating to a new country. For this reason, post-study employment opportunities and federal immigration policies tend to weigh heavily on these students' decisions.
According to a 2021 survey by the Canadian Bureau for International Education, 40% of international students who choose Canada plan on pursuing permanent residence after their studies.
Although America has always prided itself in being international students' top choice, the country's strict regulations for immigrants make it an unviable option for those who wish to immigrate. This is where Canada secures the upper hand.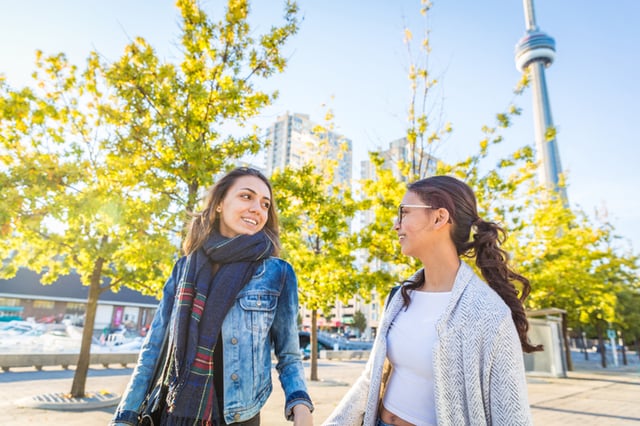 While international students can face an extraordinarily long process to citizenship in the states, international graduates can achieve permanent resident status in as little as one year in Canada. Thanks to its flexible immigration policies, the country is known for its effort to attract and keep international talent.
Moreover, Canada also has regulations that make it easier for students to acquire local work experience during their studies, such as co-op programs or the ability to work outside of the campus. These initiatives prompt international students to develop their professional skills and allow many to secure job offers before graduation.
Affordable higher education
A 2022 survey by QS placed affordability among the top five most important factors international students consider when choosing a university. Compared to other popular destinations such as the UK or the US, Canadian higher education is a much more affordable option.
Despite some provinces' higher tuition, many universities offer comprehensive funding for international students, which can cover most or all tuition fees and help with living expenses. The Canadian government also offers several prestigious scholarships that allow international graduate students to support themselves for the duration of their research.
World-class universities
Canada is home to some of the best universities in the world, including three among the world's top 50 institutions, according to the 2023 QS World University Ranking: McGill University, the University of Toronto, and the University of British Columbia.
The Canadian government invests heavily in education, ensuring that its institutions meet the high academic standards of the current global market. Most universities offer a wide range of programs, varying from traditional degrees in areas such as engineering, business, science, and arts, to more innovative programs such as game development.
Considering the prestige associated with a degree from a Canadian university and the relatively low costs of most programs, Canada offers a great deal for students considering studying abroad.
Welcoming environment for international students
Canada is famous for its hospitality. International students who choose Canada are aware of that fact and interested in joining a diverse environment that embraces and celebrates different cultures. The country also prides itself in its progressive discrimination and human rights policies, making Canada an even more attractive destination for students representing minorities who might not feel safe in more conservative countries.
Safety is another factor to be considered by students moving to a new country: US News ranked Canada as the #7 safest country in the world - the only American country to make the top 20.
Combined with the extensive support provided by Canadian universities, international students see Canada as an environment that offers comfortable living and academic prosperity.

Employability prospects
Until October 2022, international students who wanted to work off-campus were subject to a 20-hour per week limit. As of November 2022, this limit has been temporarily lifted until the end of 2023, allowing students to work unlimited hours outside the campus.
This measure is a short-term solution to the steep labor shortage that has affected the country in the past decade. Although experts point out that the initiative does little to address the deeper reasons for the issue, many students celebrate the change as an opportunity to find better jobs during their studies.
Gautam Ravulapati, a 25-year-old international graduate from Ontario, shared the difficulties he faced while subject to the old limit. He told New Canadian Media: "One major rejection that I was facing was that the employers always used to come down saying, 'Your profile is good, but unfortunately, we are not looking for people who can only work less than 20 hours.'"
International students who have already graduated have also experienced a favorable policy change. As recently announced, any graduates with valid or expiring post-graduate work permits (PGWP) can now apply for an 18-month extension.
For Larissa Bezo, CEO of the Canadian Bureau for International Education, the announcement reinforces Canada's commitment to retaining high-skilled talent. She believes that "The extension of post-graduate work permits for up to 18 months creates further opportunity for our international students to establish meaningful connections across our communities and to gain valuable Canadian work experience," reports the PIE news.
These announcements have boosted immigrant employability in Canada, opening doors for thousands of students who wish to stay in the country after graduation. For the 40% of international students with plans to pursue permanent residency through their studies, the recent initiatives taken by the government have only further cemented Canada's spot as the first choice as their study-abroad destination.